Saturday, May 16, 2009
Quickie
We have a new nephew! After a long labor he wound up having to be born via c-section and then had something called a pneumothorax where there was air in his chest cavity. Delia and I were "lucky" enough to get to watch the doctor fix it by thrusting a needle into his tiny chest and having the nurse use a syringe connected to it to suck out the extra air. It was all very stressful, emotional and interesting.
Now we're away from home again at a conference where I'm probably going to spend most of the day withdrawn in our hotel room because I'm totally drained. Over the past month we've driven thousands of miles and I'm very sick of it and just want to spend a long week appearing completely catatonic, living only inside my head and lying under a giant pile of blankets and pillows. I've been eating comforting crap (lots of potato stuffs and pasta) to compensate for feeling rubbed raw and the thought of having to make eye contact and concentrate on what anyone is saying hurts my fragile head. I hope I feel more social by Wednesday and Thursday when we have camshows scheduled.
The GOOD news is that one of our dear friends is reviving her sites and inserting them into our network. I also finally got started on redesigning my site; it's very simple so it won't take much to finish it and finally not feel outdated (even though the design is so simple as to be retro-amateur).
Labels: family, mundane, travel, work
Sunday, April 26, 2009
Auditory Voyeurism in a Hotel
Have you been waiting for hot stories about our trip to Portland? While I did feel like I was in a perpetual state of arousal (shooting
Delia
always does that to me), the most action I got was from listening to the people fucking in the room next to ours.
At first I was nervous when they arrived while we were dirty-talking during a Delia-as-schoolgirl video and felt like they and the bellboy must have heard everything we were saying. I imagined the words "slut" and "cum" and "stop teasing me and show me what you've got in your panties!" echoing down the hallway.
Half an hour later I realized it was all good and maybe an appreciated dose of inspiration when I heard what sounded like crying on the other side of the wall. Of course, being the weird little voyeur I am, I hopped out of bed and ran to the wall to listen to a chick's rhythmic whimpers and a man moaning quietly. And "oh yeah, yeah"s.
The next day we wound up leaving our rooms at the same time they did. For some reason I'd imagined the woman was going to be an Asian girl in her early twenties -- I pictured her looking like
Sierra on Dollhouse
and the guy fucking her as a puffy white guy in his early thirties. Of course they didn't look like that at all. They were about five years older than we are, the woman short with dark curly hair and sharp, smart features and the guy tall and dopey with shaggy hair and a bandana.
It's weird how we populate our default images of "couples who enjoy fucking"; I'd never have conjured those two up in my imagination, but seeing them it did make sense. It was also weird riding ten flights down in the elevator with them, never acknowledging how we'd heard each other's intimate moments. I know it wasn't the kinkiest thing they'd done and it wasn't the kinkiest thing we've done, but still . . . it seems pretty kinky the way people check into hotel rooms and fuck in them and hear each other fucking in them just a few feet away, overlapping sex sounds and depositing DNA in all sorts of places that housekeeping might miss. All those boxes of hotel rooms and all the cum dumped in them by strangers. There were visible food stains on our comforter -- it looked like barbecue sauce -- and I can't help thinking about all of the remnants of human fluids from total strangers inhabiting the room. Layers and layers of spunk.
You never hear people acknowledge this weirdness of paying money to sleep and fuck where thousands of other people have fucked and jacked off. I find that very bizarre in a country where people are obsessed with sanitizing everything and showering once or twice or three times a day, but they think going to a nice hotel is like sitting in the lap of luxury instead of a germ and sperm depository. Like the people next door -- before they fucked, one or both of them took a shower. To be clean for fucking and letting total strangers listen in. It's not that I personally think hotels are disgusting cesspools of nastiness -- I realize the bedding and towels in nicer establishments are hypercleansed for our protection and I embrace germs up to a certain point -- I just think the double standards are weird with so many people being OCD about supercleaning everything and protecting themselves from germs that they never talk about hotel rooms as cum dumps.
Do you really think they sanitize the television remotes and all the little things you touch that traveling businessmen sully with semen? And how about all of those decorator pillows (especially in bed and breakfasts) that you yourself have stuffed under your bare ass during or after a fuck? Am I the only one and other people just don't fuck in bed and breakfasts or make sure to say, "no honey, not on the decorator pillow -- it will be hard for them to wash"? Personally I just think, "I wonder how many other people have gotten their fluids on this thing with the brocade upholstery." Other times I just count all the stains that remain, visible to the naked eye, like the semi-washed-out spots of blood on the bedspread at the LAST place we stayed and the crusty spots on the carpet. Or how about
the blood on this wooden toilet seat
(which DID totally gross me out)?
On top of the illusion of cleanliness, I'm fascinated by the illusions we have of privacy, or maybe the willingness Americans have to accept and embrace a total LACK of privacy not just in hotels but in general. I knew exactly when the people in the room next door woke up -- I could hear him draw up the mechanical shades and give her a wake-up spanking. Why don't we demand thicker walls? I'll never understand that. And security recording camera feeds of the four of us in the elevator together, pretending we didn't know how we used each other's genitals the night before.
I wonder how the couple next door expected us to look and if they were surprised by the reality of us.
*****
Unfortunately our friend
Krissy
came down with a sore throat last week so we've postponed Delia's shoot with her. It will probably be better on a longer trip anyway. I do not understand how people can travel and shoot and get to appointments on time and tan and get all their nails and hair done AND visit with friends and go out and have fun -- we didn't do anything except walk around Portland and try to find reasonably-priced yet delicious places to eat (we failed most days, except I did love a certain sandwich shop in an office building with a delightfully surly cashier).
I also spent an extended amount of time lurking in the aisles of Rite Aid eavesdropping on a not-at-ALL-surly cashier being extraordinarily kind for at least ten minutes to a mentally-ill homeless woman who had a lot of questions that weren't altogether unreasonable:
Sir? Listen, sir -- you can probably tell I'm missing a lot of teeth and my mouth hurts . . . do you think this food is soft? Because that's a lot of money and I'll just be throwing it away if I can't eat it because it's too hard . . .
The guy seriously fondled the bag she handed to him and tried to explain that he couldn't make that determination because it was entirely subjective. She also had a lot of questions about pickles and cucumbers and tried to engage the man behind the counter in that age-old debate pitting sweet pickles against dill. It was heartwarming. Unfortunately I missed out on seeing someone steal a couple cases of beer the next day -- Delia was the only one who got to enjoy that scene.
Anyway, we had great weather for traveling, bought some new ponytail-holders and shot some good content. We did not go to Powell's or down the street to Mary's or visit any friends or enter any sensory deprivation tanks, though. Maybe next time.
*****
Here's
Delia's post with sample images
from our little trip.
Labels: Pacific Northwest, SEX, stains, travel, voyeurism, work
Tuesday, April 07, 2009
Almost Out the Door
We're getting ready to spend a couple of nights shooting in one of our favorite local places so our spycams at home will be mostly-dead except when we come home to let the dog out, pick up things we forgot, etc.
I made an appointment for next week to make my hair blonde FOR REAL and this time I will leave no room for any misinterpretation. EVERY SINGLE STRAND OF HAIR ON MY HEAD MUST BE BLONDE. Not all the same shade, but all unambiguously blonde.
The week after that we're going to be gone for four days traveling, shooting, seeing
Delia
's doctor, and maybe taking a day off for ourselves, too. We're only making plans to see one person while we're gone, someone we're shooting with/haven't shot with before. I have a hard time balancing socializing, shooting, and staying sane so usually I sacrifice the socializing when I know I can't handle it all. I honestly do not understand how other people are able to squeeze in so much time with other people. It's beyond me, but still I hate all the missed opportunities to see people we like/love.
I'm reserving my scanty social juices for two things over the next six weeks or so: spending time with
AmberLily and BigD before they move away from us
, and spending time with family when my second nephew is born next month (during an extremely inopportune time; the H00d Canal Bridg3 will be closed, severing our most direct route to Seattle.
Between that and the usual stuff, I'll try to post more interesting blog entries. For really real!
Labels: announcements, family, friends, mundane, Pacific Northwest, Seattle, travel, work
Saturday, October 25, 2008
Ham 'n Legs
A couple of samples from the gallery I just posted for members:
I don't think I'd feel like I need to lose fifteen pounds if we could afford for me to specialize in long line girdles and corsets.
Speaking of what we can/can't afford, I know that I need to cut some obligations out in order to have time to really tweak and market our sites appropriately. For some reason I'm having a really difficult time deciding which things I need to stop doing, at least temporarily. I've been freaking out a lot and feeling anxious/overwhelmed. I don't think my priorities are set in a way that's effective and it's hard for me to rearrange them and then accept that the things at the bottom will have to be trimmed off. I am trying to do it all (and have been for too many years) and it's just not working. I'm sucking at everything and not really focusing my best efforts on the things I'm actually GOOD at and the things that make the most money.
It's hard for me to let go.
One of the things I realized this month (besides that we NEED to take days off) is that we will have to 1) limit the number of miles we drive/trips we take each month and/or in rapid succession and 2) make sure visiting family doesn't get sidelined in that equation in favor of work or friends. It's not because of fuel costs, it's because we live so far away from everyone that the HOURS spent in the car NOT working (except to fuck up my back/body) cost too much, plus it breaks my heart going for such long stretches without seeing my nephew. I also had a major meltdown awhile back with extreme guilt over neglecting to visit my grandma in over a year. Long story short, I'm stressed out and tossing ideas around in my head to reduce that stress.
Eventually I am going to have to learn how to forgive myself for not being able to do everything, and allow myself to succeed working from a shorter/different to-do list.
Labels: boobs, boundaries, family, fetishes, goals, mundane, natural boobs, PHOTOS, priorities, travel, values, work
Tuesday, January 22, 2008
Today & Yesterday (& the day before that, too)
Here's what we're doing today
. We'll be gone all day since we have to trek to Seattle and will make use of that to visit family. I'm sort of hoping to come back sooner than later, though, because of how frosty and potentially icy the roads could get.
In the absence of real blogging, you can check my
Daily Trixie blog
for the rundown(s) on what's been keeping me busy, including a brown rundown last night. Gross!
Looking forward to blogging more SOON!ish.
Labels: bodily functions, links, mundane, Seattle, travel
Thursday, January 18, 2007
Home Again
HOME AGAIN
Yay -- we're home again after a two-day shooting-spree, bringing us about one third of the way to meeting our Valentine's Day Goal of getting three months ahead on content production for our three main sites.
The place we rented was HEAVENLY, and I loved getting up this morning with no computers or cams to go check . . . just padding around in a clean pretty house after a lovely night of sleep in a perfectly firm and tidy bed. It was the kind of house that makes you feel like your life would be perfect if you could wake up there every day . . . if it belonged to you with its pretty colors and clean linens and someone else to do the housekeeping. While I pretended it was my house, Tucker had to go home and let the dog pee. When he came back to our pretend house, it was in our beater truck instead of our beater van and he bore the bad news that our van broke down. Again.
The reality of our precarious situation crashed down onto my head as we filled the dirty cab of the truck so full with our suitcases, lighting equipment, etc. that there was barely room for us to squeeze inside. But whatever. Things will get better. Someday we'll have reliable transportation. But before that we'll have three fucking months of content queued up for updates and won't be scurrying three times a week to shoot half-assed shit just so we have something to post. More time to make money (for a new camera and, you know -- a car that runs), more time to shoot FOR FUN and with a little more ambition, and a lot less tension and anxiety. More time to do other stuff, like chat with members and do private shows and phone sex -- things I really miss (like writing more interesting blog entries). But all I care about right now is meeting that goal of getting ahead on content; we have just over two week to achieve that before Valentine's Day strikes, and then we should be able to stay on top of it with some focused effort (maybe two or three days of focused shooting each month with spontaneous stuff thrown in for good measure, and the freedom to experiment a little more without worrying that we've "wasted" a shoot trying something new or strange).
So. Now I'm waiting for the tow truck to get here to haul our van to the mechanic's. I haven't had a safe and reliable car for about six years and I'm getting really sick of this shit. It's not a very big deal because we work at home, but it has become a larger issue since my nephew was born (and lives hours away) and my grandma is sick (and lives hours away). Right now, at this very moment, I'm not sure if I want to rip my hair out or just shrug it off and remind myself it will all be okay.
Labels: goals, money, mundane, travel, webwhore insights, work
Tuesday, December 19, 2006
French Toast
FRENCH TOAST
Note: Bob Evans does not provide a competitive French Toast. It *looks* promising, but doesn't deliver the density required of a hearty FT nor does it offer the fluffy springiness of a light toast. It's instead a soggy sponge of a toast. We will have to go to a *real* hometown cookery to get something good.
Friday, January 10, 2003
Back from Vegas
We got home around 7:30 pm last night . . . lots to catch up on! (I will probably predate the entries so they will show up below this one - keep checking back to read more about the trip!)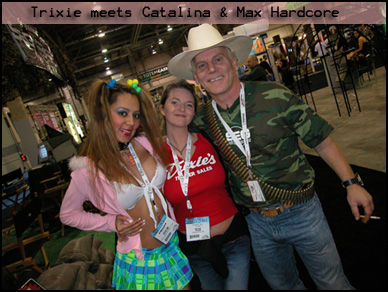 Hardcore porn starlet Catalina, me, and Max Hardcore at Internext 2003 in Vegas.
Believe it or not, I'm really happy to be home from the excesses of Vegas (tons of food, etc.) . . . I've eaten three top ramens in the past twelve hours and have loved every one of them!
Labels: PHOTOS, the porn industry, travel