Sunday, July 05, 2009
Tyra Twisting Sasha Grey
An amazing MUST-READ piece about Tyra Banks media-raping young, too-smart-for-tv porn starlet, Sasha Grey:

Barely Legal Whores Get Gang-Fucked.
I used to have no beef with Tyra. Before we actually WATCHED her shows. I still think some people get crazy-mean criticizing her, but if they do, this is a perfect example of why. Her double standards and bullshit exploitation of young women is a gross freak show. You can't help wanting to knock her off her high horse. Some of the things I have seen and read about her doing to young women are despicable, mostly because she sees no problem with having malnourished girls get hypothermic modeling in pools of cold water or in violating codes by forcing inexperienced model-wannabes to live more-to-a-room with fewer beds than are allowed by hotel regulations or with promising contracts and money and work that never come through or just plain exploiting these young women's bodies, inexperience, stupidity, etc. BUT she somehow thinks porn is SO BAD while she's some kind of a fucking mother-hen angel rescuer.
Tyra's shows ARE porn. That article illustrates how manipulative, degrading, deceptive, brainwashing, irrational, insulting, and totally FUCKED UP mainstream media and moral standards are and how SHADY the game is of pointing the finger at the skin trade when the skin is the whole reason people are watching your charade. The hypocrisy is grotesque. They lie to guests, twist their words, misrepresent them, costume them in a misleading manner to try to prove their bullshit points and "seduce" audiences with their bullshit and subject people like Sasha who are smarter than Tyra to what amounts to an emotional stoning. That whole scene reminds me of the time a bible-based cult ganged up on me to try to convince me I was possessed by demons, going to hell, my mind was playing crafty tricks on me, etc. Seriously.
But I'm not here to JUDGE you, Tyra. I'm just here to ask you to CONSIDER fucking off and dying. YOU are a pimp, Tyra. YOU.
PS - starving yourself and wearing high heeled shoes that don't fit and falling off runways and crap are probably more unhealthy and more unnatural than buttfucking.
PPS - seduced by money? Bwahahahahahahahaha!!!!!!!
PPPS - after watching/reading that I can say I'm a now a
Sasha Grey
fan (
VOD
or
DVD
- yes, I'm pimping, too).
Labels: celebrity, double standards, pop culture, rants, sex work, television, the porn industry, worse than porn
Sunday, January 25, 2009
Competition
Did you see
the chick who kept mispronouncing "larynx" and "trachea" on American Idol
?
Yeah, well I *loved* her. Because I could relate to her so much. Her seriousness and convictions and reaching for the right words (but getting them all wrong) and insisting upon precision with her responses to questions and bewilderment over the rules of the interview at the end. I loved her voice and she was the kind of smarT I recognize as my own.
I hate myself for watching that show, but almost feel like it's my duty to know how we're being taught about our own and other people's value. If you have bad teeth, if you're mentally ill, if you're overweight, if you're
an aspie
(see above), if you're overweight AND wear tight or revealing clothing, if you're borderline retarded, you're fair game for the Idol freak show. All of America joins together not just to laugh at you, but to FEEL GOOD about laughing at you without compunction. It's a family show! Everybody's watching! It's okay to laugh in someone's face, punctuate every gaffe with sound effects, play songs like "Weird Science" when you walk into your audition if you're a nerd (two scores I'd personally be pleased with -- that song is googlyicious GOODNESS and that one nerd with bad teeth could have played Patrick Bateman's long lost hillbilly cousin!). You can laugh right in someone's face and still be considered kind as long as you chuckle "good lookin' out!" and say, "awwww, you should never sing again
but I can tell you're a real sweetie!
" as they exit.
They pretend American Idol is a competition only one person wins at the end, but the real reason it's popular is because we ALL get to be winners at home each and every time they show us another fucking loser. The same people who've been targets of cruelty and ostracism for centuries -- sissy boys with lisps, fat girls whose pants split, ugly people who dare to smile wide, and village idiots whose ears stick out and eyes are too close-set -- willingly subject themselves to torment. Compared to them, the rest of us come out so far ahead! We are smarter, prettier, stronger and more likely to fit in than THOSE Americans. We wouldn't make their stupid mistakes!
We just watched an episode (
Yokel Chords
) of The Simpsons that made fun of this phenomenon with Homer demonstrating exactly the behavior I'm talking about, pointing at the inbred hicks on tv, calling them stupid and feeling so good about himself in the process. I totally understand the appeal; in the internet porn industry I'm surrounded by people I subconsciously think of as easy targets (mostly my male "colleagues"); I feel like it's my duty to be mean and ream them out, but maybe I actually waste time around them on webmaster boards because I'm a small person who wants to pretend she's an advanced and sophisticated thinker. How petty and embarrassing is that?
It's taking me a long time to put it into practice, but I really want to stop doing that. Awhile back we heard a comedian on the radio asking why it's not okay to make fun of retarded people but people who are just plain STUPID are totally fair game. It kind of blew my mind because I like to think I'm one of those defenders of political correctness and sensitivity, but I totally have that double standard that I should be empathetic towards people who are developmentally delayed or have other identifiable REASONS for not being great intellectual thinkers, but it's not only acceptable to mock and hate on stupid people -- it's like I sometimes feel it's my fucking DUTY to be mean, angry and impatient with stupid and/or ignorant people. Like they have no excuse for being so dumb or lacking information. Granted, most of the time when I feel that way it's because they're acting like judgmental know-it-alls themselves or because they're idiots writing to me with offensive demands, but it doesn't really accomplish anything or make me a better person to behave the same way. I feel especially gross about it considering that under other circumstances -- if I were in a different role doing a different kind of job (teaching, for example) -- I would never allow myself to act that way and would be horrified by other people doing it. There are a bunch of ways I defend my behavior and even as I write this think it's the RIGHT thing to do in certain circumstances. What I want is to understand what *I* get emotionally out of being an asshole to stupid people and decide whether or not it can accomplish anything positive next time I feel like calling someone a moron. It's gotten so reflexive that nary a day goes by that I'm not screaming at someone for being a dumb-ass. Dumb fuck, dumb ass, crazy bitch, stupid shit, crazy SON-of-a-bitch, cocksucking moron . . . apparently they're everywhere I look and it doesn't really make me feel good to label people that way everywhere I look, even if I only do it in my head or muttering under my breath at the grocery store, "MOVE, you stupid shit-for-brains, MOVE!!"
I wonder why I've gotten worse about this as I've gotten older. Is it because I'm more socially isolated and feel less connected to other people? Is it because I'm more and more aware of my own limitations and am just projecting my own feelings of inferiority? Is it because I have some hormonal stuff going on that's making me more of an asshole than I really am? Is it because I know that I'm actually one of those stupid hillbilly nerds they make fun of on television? Whatever it is, I'm going to try to be less of a shithead and recognize that the only person I am in competition with is myself.
Labels: class, health, human nature, identity, pop culture, spiritual issues, television, the porn industry, values
Saturday, August 09, 2008
Sexy Diversions
Today I spotted a really good deal for webmasters on a huge stash of hot Russian fetish porn so I bought it and decided to use it to start building a bonus site for our
members
. Tonight I'll post a gallery of fifty of my favorites; the following are samples from that gallery:
I bought this package not only because it was cheap, but because it contains so many things I love: gloves, inflatables, peeing, smiling natural-looking girls, outdoor nudity, white panties & socks, and a host of other naughty things. It's hard to believe the content broker advertised it as his "ugly girls package". Snort. There's some insight into the porn industry mentality (in case you need any, which I doubt).
My hope is to make this bonus site to house bought content (non-exclusive stuff I like, but we didn't shoot ourselves) and be more of a story site with my own little fantasy narrative to accompany my favorite images from each set. I know! WHY am I starting another project? It's not really a big thing to do, though, and not something I need to crank out or "complete" any time soon; it's more like adding another feature to our sites and inspiration for me to write more porno stories which are conspicuously small in number on our sites as it stands. I like riffing off of strangers in content other people have shot. It's fun/hot, plus I feel the need to bulk up on the stories because a) the types of people who dig our sites also seem to dig stories, b) it offers insight into my own turn-ons which is part of the personality people expect from me, and c) to offer a little more of the type of content women gravitate towards (IN GENERAL; of course not all women like their porn in story form, but a whole lot DO rely upon the written word for masturbation fodder and think huge sets of 200 pics are totally fucking boring). Stories are pretty cool because they don't require a bunch of money or extra people to produce outrageous scenarios; you just need time (which IS money, I know) and a pervy imagination.
Speaking of stories, here's
the latest on the "Red Rose"/Karen Fletcher case
in which a woman was prosecuted by the federal government for OBSCENITY. She was convicted of a thought crime right here in AMERICA! I don't know how to explain this if you don't already know it, but it should not be acceptable to any of us that the government thinks WRITING about criminal behavior and publishing it IS a crime in itself, no matter how unsavory the subject matter. Even if people are jacking off to it. Especially when there are shows on television like
Law & Order: Special Victims Unit
which is big corporate porn of exactly the same stripe as Karen Fletcher's, only maybe it's worse because people delude themselves into thinking they're watching those fictions not out of "prurient interest" (which is the language the law uses to say certain media is used as jack-off material rather than some more socially-acceptable form of entertainment - I call it the pornography of abuse and it's how Oprah MADE her fortune) but because it's somehow good for society. What a crock of shit. You cannot flip past that show for ten seconds without some Daddy creeping into a family bedroom he shouldn't be in or seeing a child shivering naked in a bathtub or hearing the word RAPE. People obviously get off on that shit in many different ways. Let me clarify, I'm not condemning human nature here (most of us are drawn in one way or another to the horrifyingly sick, scary and macabre), I'm condemning the double standards that criminalize speech that SHOULD be protected by the First Amendment while giving the entertainment industry fucking Golden Globe awards for the same shit wrapped in a different package and set of excuses.
If Karen Fletcher was DOING the things she wrote about or printing the stories up on fliers and distributing them at elementary schools, well OF COURSE she should be not just prosecuted, but locked up for life. But she wasn't. That's not what the Department of Justice went after her for. They went after her for sitting at home in complete isolation, putting words on a computer and then onto the internet. WORDS. She thought about bad things and shared those bad thoughts with a whopping audience of twenty-nine people who sought out and chose to read them. Would I want to be her friend or have her over to babysit? Of course fucking not. What I want is for us all to prosecute and put people in prison WHO ACTUALLY COMMIT CRIMES. Not just imagine crimes in their heads.
Labels: beauty standards, fetishes, PHOTOS, PORNOGRAPHY, rants, sociopolitical commentary, the porn industry, things I treasure, worse than porn, writing
Tuesday, April 15, 2008
Jelly Belly
I found this video while researching fat belly fetish movies to get ideas for a small plumper site I want to make with my chubby pictures:
Like the last video I posted, I know it's just supposed to be "funny" but I actually adore it (and think the sprinkler and body slam shots were *hot*); you can always count on me to love videos of people dancing and grooving without trying to look cool. I mean, I also love watching people dance better, but even more I love seeing regular people expressing themselves and making their whole bodies giggle and shriek.
*****
I always intended to make a chubby Trixie site, but I have lots of ideas that I don't have time for so I've never done anything with it (even though I have a couple of domains that are perfect for it: JellyRollJane.com and RubenX.com. Right now my belly is probably bigger than it's ever been, though, so I have a few more photos than usual I've been reluctant to post on my regular site AND I'm constantly trying to hide how big it is during shoots; that's SILLY since it would be so easy for us to take about 25 more pictures each shoot that EMPHASIZE my belly fat and would be marketable to a unique audience.
I do feel guilty and self-conscious about even admitting I want to segregate my roly-poly belly pictures from my other photos (the ones where I don't make a point of showing how big my pot belly is); I know that a lot of people like the belly fat and I know that I'm always talking the big talk about sharing myself in all of my natural glory (hence the almost-in-your-face menstruation stuff, etc.) BUT I'm definitely reluctant to highlight rolls of belly fat, cellulite and double chins in the members-only area of
TastyTrixie.com
. It's still all *there*; I'm not actually hiding it from members (and I do have some fairly in-your-face chub pics and galleries), I'm just not sure about taking it to the next level of really fetishizing those parts of myself and the truth is that I kind of want to.
I remember the first time we shot photos meant to augment the sight of my belly fat; it was SO AWESOME, the feeling of letting go and letting it all hang out instead of sucking it in and drawing attention to anything BUT my belly. Because I am quite chubby looking right now, I could really stand to have some fun with it instead of worrying about people who join my site not anticipating they're getting a chubby chick. And people? Don't even try to reassure me about this one; I'm just being realistic; YES I know there are lots of people who will adore me no matter what. Unfortunately I am neither in-shape NOR fat enough to turn-on chubby chasers to the extent of making a real living off of it. I am average; the best I can hope for with my site when it comes to my body is to attract members who are aroused by an average body type; I'm pretty sure most of those guys can tolerate and/or are aroused by a little extra padding but a REALLY bulging belly with an obvious overhang and many rolls of fat? I think that would alienate and turn-off a lot of my audience; Lord only knows I already do enough to alienate and turn-off my fans so adding the really big taboo of fat on top of that is probably not a wise business decision. Again, it's not that I don't show off fatness on my site (you know I love showing off the backphat, especially) but I'm concerned that if I take it much farther (belly-jiggling videos, videos of me overeating/talking about how much I love to eat/describing how I'm getting bigger, hiding toys & dildos in my folds, pooching out my belly as far as it will go, etc.) that people will be . . . confused.
I started compiling more fat-focused photo galleries today and it felt SO GOOD to look FOR really chubby pics instead of hoping not to come across them. Looking at pictures of my belly hanging over my waistband suddenly became a joy instead of a nuisance simply because I started looking at them from the perspective of people who specifically SEEK OUT that look for masturbation fodder.
While I do have some reservations about catering to fat fetishists, if I just make a small collection available OFF my main site then it won't require a lot of time or long-term commitment (and I won't have to pay for the fall-out of alienating the average-body fans). Part of me just really wants to give expression to the growing magnificence of this part of my body along with some of my food fantasies. I have a lot of specialty interests (gloves, bubblegum, stockings, feet, taboo roleplays, and numerous underground fetishes) but my chub is something I feel especially suited to explore right at this moment in time.
It will be a good experiment, anyway, and for those of you who *do* want to see it and are already members? I will figure out how to share it with by request and/or some of it will show up on TastyTrixie anyway in spite of my reservations and/or could be combined with FertileTrixie; the pregnancy fetish is complex enough that it also encompasses people who like seeing women growing/inflating and might crossover enough with the fat belly stuff I'm doing that it will all meld together in a delicious vat of plump 'n pregnant stew.
Shit -- I hope I'm not talking this up too much and getting people's hopes up; I'm not talking about investing a whole lot of time in making special content like this so DON'T GET TOO EXCITED all ye fans of fat! I'm just looking forward to shooting some stuff that doesn't require me to try to be attractive from head to toe and allows me to express another part of my personality. Fetish stuff can be such a relief to shoot because people don't spend as much time looking at "the whole package"; you are beautiful to them just for having the right color of nail polish or a strong prescription for glasses . . . or an abundance of skin folds and wobbly flesh around your midsection.
On top of all of that, I have always wanted to see more porn featuring women who are truly average/just a little bit overweight and in porn? That's kind of hard to find since the industry focuses on extremes.
I know there are some twisted thoughts in this post and some unclear/contradictory thinking so yeah; I know my feelings, values and thoughts are muddled and maybe fucked up. If anyone wants to leave comments, I'm most interested in looking at this from a business point of view and hearing from people who consider themselves BBWs AND from fans on whether or not belly fat turns YOU on -- I don't want to hear polite reassurances (though I thank you for your kindness), only the truth if it turns you OFF or if it's really something you dig.
Labels: beauty standards, customer relations, fetishes, health, the porn industry, TURN ONS, TURN-OFFS, webwhore insights, work
Saturday, February 16, 2008
We're in a GayVN Nominated Movie!
I'm keeping my fingers crossed that the movie we were in,
Audacia Ray's "The Bi Apple", will take home the GayVN award for "Best Bisexual Video"
. How cool would it be for me, a person who identifies as a woman and endowed with a vagina, to be able to boast that I was in a porno that won a GAY porn award? AWESOME!
Still, it's crazy that this movie (which, if you HAVE to label it as catering to either a "gay" or a "straight" audience is OBVIOUSLY better marketed towards consumers in the straight marketplace than the gay market) is being recognized at GayVN but wasn't at AVN. If I remember correctly,
Dacia
said AVN got rid of their "bi" category; right now I can't find any of her many posts about this matter and bisexuality in the porn industry so I can't vouch for that detail. Anyway, The Bi Apple at Gayvn is a reminder of the bizarre standards in our society (that the porn industry REFLECTS, but I don't think CREATES) that male bisexuality is rarely acknowledged as common, normal or even possible; most people still subscribe to the belief that men are either straight OR they're gay with absolutely no in-between. That attitude flies so directly in the face of common sense, plenty of research and everything that is readily observable about male sexuality that you can't deny we must have a MASSIVE agenda in suppressing the truth and perpetuating homophobia to the point where we'd rather sound totally insane in the membrane that admit most guys are wired to get off on both cock AND pussy.
I just read Augusten Burrough's
Sellevision
and one of the FUNNIEST things about it was his fantasy portrayal of the porn industry as an open, bi-sexy, anything-goes atmosphere which it absolutely is not. His gay male protagonist can't get a straight job anymore so he decides to try porn "acting"; when Max tours the studio it's described as one that makes BOTH gay porn and straight porn, and has performers of all orientations lounging around ready to fuck both men and women; there's the star Trixie Thunderpussy (no relation)
and
the male fluffer, Shaun. Max does his impromptu screen test with Rocky right on the set of "Pizza Parlor Pussy"! If only that kind of shit really happened! It was the most naive, idealized, unreal things I've ever read coming from such a jaded author and just goes to show how little people, even sexually sophisticated people, know about the porn industry. The porn industry is crazily segregated and extremely UNcomfortable with natural variations in human sexuality.
My impression of a lot of men in the porn industry is that they fancy themselves reinforcers of decency and "standards". They all think that they know what All Men Want, they all think they know what sells (if they haven't tried it or don't like it then it can't POSSIBLY be marketable). They are very intent on maintaining their perceived boundaries between false dichotomies like bad and good, gay and straight, fat and sexy, fetish and non-fetish, hairy and clean, women and men, old and young. Blurred lines horrify them and the only stuff they'll accept that pushes outside of "normal" is extreme hardcore performed on women. The only arena where they seem interested as a group in challenging accepted standards is on women's physical and human limits.
Okay, we've established women can take two cocks in the ass . . . how about expanding that asshole to two cocks, a fist, a frozen turkey and a barbie doll? And now that we've found that unilaterally referring to women as either sluts or whores or both is easy AND effective how about we really push the envelope by calling them cum-dumpsters and human toilets more often? YEAH! This is really NEW and CUTTING EDGE!
We should all think it's weird and wacky that the more we are able to know about sex and human behavior, the more restrictive and willfully stupid we've become, and the more feminism progresses, the more porn (along with all other media) seeks to put us back in our traditional places. It seems obvious we're in denial and trying our hardest as a group to maintain norms that should have been blown to smithereens. As individuals I think we really need to call bullshit on each other and question our motivation for being so rigidly resistant to acknowledging basic human truths, like, ERECT PENISES MAKE PEOPLE HORNY. Duh.
*****
Does it seem as though I just went off on a tangent, switching from bisexual porn to feminism? I wish I had the time and the brain to do a better job of connecting the dots, but it does all have to do with gender to the point where sometimes I wonder if we're afraid that if men started openly acknowledging how much they want to suck cock that we wouldn't know what women are good for anymore.
Note: I do not think porn featuring women in submissive or even degrading roles is intrinsically evil or "bad" or harmful, nor do I think people should automatically feel guilty for getting off on that; my problem is with the PREVALENCE and thoughtlessness of that type of porn to the relative exclusion of other (and often healthier/more "normal") scenarios, and the ease with which people in the industry accept it contrasted with their disdain for other types of scenes.
*****
Anyway, I hope The Bi Apple wins; I'm going to be watching
Dacia's twitter
like a hawk to see the outcome.
Labels: beauty standards, books, feminism, fetishes, gender issues, human nature, links, PORNOGRAPHY, sociopolitical commentary, the porn industry, VIDEO
Friday, August 17, 2007
What Girls Like to Eat!
What Girls Like to Eat
Don't hate me because I'm a webwhore, hate me because I'm an asshole:
Download File
I know I'll feel guilty in the morning about snickering over this.
What I really want to know now is what does "Daddy" like to eat?
Labels: food, PORNOGRAPHY, the porn industry, TURN-OFFS
Friday, June 08, 2007
Cloud Nine
CLOUD NINE
I wrote the following "blog" entry for our affiliates to plug into their own blogs to try to get people interested in a membership to Delia's site:
Some people's idea of heaven is a hot chick with a dick, someone like
Delia
, a devilish angel with a she-cock: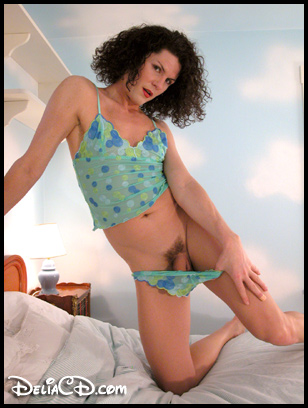 Full Gallery appearing now in Delia's Members-Only area .
JOIN NOW for ALL of her pics, vids & spycams!
If there's a God, s/he surely must have populated the fluffy clouds of our afterlife with dreamy companions fusing the anatomical wonders of both genders, defying the restrictive binary categories of our earthly lives and elevating us to a place where true transcendence is exhibited everywhere. You know what would be even cooler? If upon entering heaven we got to construct our own hodge-podge anatomy, like plugging parts onto a Mr/Mrs Potato Head.
I'll take the milky DD breasts, a very tight hairless sphincter, a vagina hole and a gigantic uncut cock placed directly atop said vagina hole. And really well-developed biceps so they won't be dwarved by my extra large wings.
I hope they're also passing out non-scratchy elasticized rhinestone cockrings and fuckable eye-sockets. Wouldn't it be great to see a shemale's cock coming right for your eyeball, getting bigger and bigger, and then, like, penetrating it?? And then when she starts fucking your brain you hear music, like heavenly voices, like the Mormon Tabernacle Choir singing inside your head.
I'm on my way, St. fucking Peter, right after I finish masturbating to the latest video in
Delia's members-only area
. . .
I'll admit I didn't write this blog entry; Delia's crazy-ass girlfriend Trixie wrote it and asked me to post it here. She's a total wingnut, but Delia is hot.
*****
This is the kind of thing I wouldn't post in our own blogs (err, well I guess I just did but not without explaining myself), but I *love* writing anyway. For all of the complaining I do about the stupid ways people try to sell our porn, I actually enjoy joining that fray myself because it allows me to feel totally uninhibited; I feel that there's no real standard to meet, subtle soft-selling is discouraged, and I can revel in objectifying us in ways that I know should probably politically and emotionally disgust me. Oversimplifications are welcome as long as they catch people's attention quickly and I genuinely amuse myself in the process of writing promotional text. It's just FUN. I suppose it's hypocritical or at least oddly contradictory on the surface for our own site personas to be what they are and for the promotional text I write for them to be so ridiculously shallow, but I still get a huge kick out of it. Part of the fun is knowing that if I can lure someone to our sites on shallow pretenses, they'll unwittingly become ensnared in webs of the complex realities of our personalities and lives and we'll have subverted the porn "thing".
God that sounds TOTALLY FUCKING EGOMANIACAL. I hope I didn't make you barf. Please, take none of this too seriously. This is only a test.
Labels: body parts, fantasies, PHOTOS, the porn industry, webwhore insights
Monday, May 28, 2007
Web-Log
WEB-LOG
Here are some interesting nuggets I ran across in the past couple of days:
Breast Implants Linked to Higher Suicide Rate
The researchers discovered the suicide rate is 73 percent higher in participants with breast implants relative to the control group.
That's some pretty fucked up shit that can't easily be disregarded considering it was a fifteen year study that "collected information on 24,600 women who had received breast implants for cosmetic purposes". I wonder, though, how many of those women got the old silicone implants and/or just bad hack-job surgery in general that could put a dent in anyone's positive outlook. Still . . .
A sleepy sex entry from Glazing the Donut
After my post about
molesting Delia in her sleep
, it's a bit of odd synchronicity that I clicked on GtD from my sidebar and found such a relevant post considering I rarely visit there otherwise it would, by now, be moved to
Old Mutes & Rare Updates
. Regardless, it's a fantastic entry touching upon the type of sex play the mainstream porn world pretty much ignores: guys who like to get their entire faces sopping wet in pussy juice.
Another Smarty-Pants Coed's Eyes Opened to Porn
It's a little muddled, but this chunk has inspiring potential:
The exploration of fantasy can take you out of the limitations of the typical roles that you are required to fill, whether you are gay, straight, bisexual, male, female or transgender. The rise of "tranny" porn, female domination porn and female ejaculation in porn are all examples of women taking on the traditionally gender-specific roles of men, and using penises, either real or simulated, to ejaculate in ways that most people previously believed that only men could. UCSB grad student J.D. Scott, author of a soon-to-be-published paper on the "transgressive images of female bodies," describes how straight men are the largest consumers of these sorts of female-domination porn films.
I'll withhold my potentially lengthy commentary.

Fourteen Year-Old's Self-Portrait Stolen for Porn DVD Cover
The one and only discussion I saw of this on a porn industry board only focused on her being underage and really disregarded the theft and HORRIFYINGLY stupid, unprofessional and demeaning response from the porn studio. Porn webmasters seem to be saying, "how DUMB to subject your business to legal scrutiny for using a minor's image!" rather than, "how low and unethical to steal and try to profit from a copyrighted piece of art made by a teenage woman and then have the balls to hurl moronic insults at her and tell her that she doesn't deserve one red cent." I hope she gets a lawyer and rapes TVX's wallet dry.
Oh sweet JESUS: I found another thread about this on another adult webmaster board and most of the responses are (predictably) even more offensive than the ones I read elsewhere, though are balanced out by a few sensible thoughts.
Sensible reaction from an adult webmaster:
Their response to her is sickening. People like this need to be blackballed from the industry.
Stupid response from adult webmaster:
Sorry I must have missed something. Please show me the proof where

A) the girl posting is actually the girl in the pic

B) she is actually underage in that pic

C) she did not give them permission to use the pic.

if she's full of shit SHE is the one in big time trouble.
Another stupid response (from an adult webmaster I have always found to be REALLY FUCKING RETARDED):
The picture was taken in 2004 when she was 14. Now it is 2007, so she is 17. Yet she is surfing and entering pornsites even though she is underage, and she apparently possesses porn as well (otherwise how would she have a copy of the DVD?). I smell major, huge, stinky bullshit.
More stupidity:
problem is this is all probably fake shit on her part to get money. I can not beleive all the idots on that site that actualy believe. She should be sued for giving us all a bad name. Ironically she probally sucks more cocks than the average porn queen
Does this give you an idea of why "networking" with my supposed colleagues can be really fucking unappealing and truly appalling? It's particularly hilarious to hear a porn peddler accuse someone of doing fake shit to make money and another to act as though it's inconceivable that a seventeen year old would have access to porn (or that somehow her porn surfing negates any claim she has to her art and image).
*****
I'm still feeling sick from my cold, but the weather is BEAUTIFUL and I'm loving having longer daylight hours exchanged at night for with some kick-ass moonlight. Yesterday one of the few things I managed to accomplish in my sickly haze was fixing my archive links over in the sidebar so the past few months show up again.
I have
a couple of shows scheduled today
so maybe I'll see you in the chatroom; my group show yesterday was filled with pleasant conversation and nice people who asked me nonsexual questions on purpose to aggravate the impatient wankers.
Have you read any John Irving? Do you believe in wormholes? Are you transgendered like your girlfriend?
I would definitely be open to discussions regarding the implant/suicide connection, the theft of Lara's image, or (of course) whether I should be blonde or brunette. I've gotten a few emails since
my post the other day
, but I'm still curious about how this crucial matter impacts each person who encounters me.
Labels: copyright, ethics, health, links, rants, the porn industry, webcam shows
Friday, January 10, 2003
Back from Vegas
We got home around 7:30 pm last night . . . lots to catch up on! (I will probably predate the entries so they will show up below this one - keep checking back to read more about the trip!)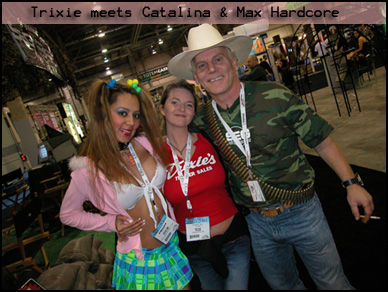 Hardcore porn starlet Catalina, me, and Max Hardcore at Internext 2003 in Vegas.
Believe it or not, I'm really happy to be home from the excesses of Vegas (tons of food, etc.) . . . I've eaten three top ramens in the past twelve hours and have loved every one of them!
Labels: PHOTOS, the porn industry, travel