Thursday, January 01, 2009
Sliding into Home (PICS)
Bloggers and webwhores around the world are making "year in review" posts right now. I'm not very good at instantly recalling and ranking The Most Important Things That Happened Last Year (seriously, I'm not even capable of ordering food in a drive-through -- something every other moron in America is MORE than competent at). I do feel really excited about 2009, though. It's like the past four months have been a slow, gradual process of skill-building, cleaning-up, clarifying and prioritizing to prepare for a great new year/rest-of-my-life.
Before I sum up my too-personal stuff, here's a picture of me from way back in February of 2002, before my members-only area opened, right around the time I met "my
houseboy
" before she became
Delia
:
And photos from a couple of my favorite shoots this year:
Probably the most important thing that happened in 2008 was we both started going to
twelve step
meetings. If I just said, "the most important thing that happened in 2008 was
Delia
stopped drinking" it might make more sense to people, but that really isn't the most important thing that happened. The most important thing for me (and equally important for our relationship) is that when she stopped drinking this time AND started going to meetings, I had to start getting my OWN shit together instead of thinking things were just hard because of her alcoholism. I sort of thought everything was perfect before EXCEPT for her drinking, but the month after she stopped? It totally wasn't perfect, because I had a complete meltdown. Obviously I know *I* am not perfect and I know a lot of the ways I'm an asshole (and will continue to be no matter how hard I sometimes try to stop being), but I really didn't have a plan or consistently work towards or ask for any help being a better, happier, healthier, nicer person. Working and worrying about other people (what they're THINKING, what they're DOING, what they EXPECT from me, how I think they're so fucking WRONG/fucked up, etc.) were my top priorities. I didn't really accept that me being a crazy asshole was/is my absolute biggest problem.
They seem like a simple concepts to apply to life -- just worry about your OWN shit, don't try to control anyone/thing except yourself -- but no matter how much I know those things on a rational level, applying them on a daily basis is a struggle and going to meetings helps me with that in a way nothing else ever has before.
Getting back on
Ritalin
has helped a lot, too. Another thing that's helping is making exercising a priority -- on December 5th I moved "exercising" to the top of my to-do list. I've exercised 21 days out of the past 29 (walking, dancing, stretching, DDRing, pilates, etc.). I need to keep reminding myself that my health is a bigger priority than work -- that taking care of myself IS my job and the foundation of doing everything else better. And being less of a crazy asshole.
This year when I filed our 2007 taxes (late, in October) I also had to face that we didn't meet our money goals in 2008; like, our sales were almost exactly the same as in 2007 when my goal was to double it (not as insane as it sounds, especially given our growth rate in years past). It's not that I'm not thankful -- I know that lots of people made LESS money in 2008 than 2007 -- but there's really no excuse for us not to be making more money. Yes, it's hard. But it's at the point now where we really NEED to, and that challenge/brink-of-disaster is good for me because it focuses me. I've been
pushing everything to the sidelines that is not an efficient way of meeting our sales goals
and promising myself not to pick those things up again until our goals are met and I can *justify* doing all those extra things and have the *resources* to do them well.
We also tried harder in 2008 to take days off. We didn't succeed in doing that consistently/regularly, so I should make that a resolution for this year. In general 2008 taught me that I can do more work better by not trying to do so MUCH of it and by working on improving myself.
In between meetings, exercise, Ritalin, fewer goals in my field of vision/better priorities, I felt really good about taking down the 2008 calendar and hanging up 2009. Everything feels like it's falling into place and I feel more patient about the time that's taking than I ever have before, and massively excited about the way Delia's and my relationship with each other is evolving and deepening -- our need to spend non-work time with each other and making/hearing music, fucking, laughing, kissing, talking, cleaning house, playing games, etc. is another huge motivator to push other stuff off the table so we can just ENJOY each other.
I am still going to be an asshole in 2009, but I will be a healthier asshole with a more flexible pucker. I know I won't STOP blowing hot, rank air but I will concentrate on cooling it down and remind myself to focus on cleaning myself up from the inside out to reduce my stench. I will be a more kissable asshole in 2009, and if all goes well perhaps I will be wiping myself with money by the time 2010 rolls around.
Yes, an asshole can dream.
Labels: accomplishments, attention deficit disorder, goals, health, PHOTOS, priorities, ritalin, thanksgiving, therapy, values
Wednesday, September 17, 2008
What's up, Doc?
I'm betting people are curious how my psychiatrist appointment went, so here's a post that's JUST about that:
It was a relief to see him; I was amazed how much he remembered after more than five years, and that was without even having the benefit of reviewing my old records since he moves them from his office to his garage if inactive and older than five years.
Hmmm . . . now that I'm trying to write this I'm not sure how much of it I feel like sharing, not because any of it was bad or even that personal, it's just the kind of thing that requires a lot of context and background information to be accurate and I know people have a tendency to be judgmental about prescription drugs, people who are diagnosed with new labels, etc. On the other hand, I know that for every person who reads this stuff and thinks, "what a crock of shit/loony bird/lazy, oversensitive drug-seeker" there's another person who can relate.
Long story short, I'm really glad I went. It's always so cool to have positive, meaningful experiences with health care professionals where you are helped in a way that also makes you feel respected, empowered and cared for by people who are extremely knowledgeable and gifted. I wish everybody could afford to get the care they need from people who deliver it at such a high and loving level.
Aside from the intangible benefits of going, I came away with my generic 10 mg
Ritalin
prescription and an assortment of other samples and scripts to try since I live too far away to come often (four hour round trip), my insurance isn't paying for it so it's too expensive for me to come often, and I said I can't afford to try anything new after my bad experiences with
Adderall
(it made me feel really depressed and hopeless) I'm reluctant to stray from what I know works for me.
I've only filled the prescription for the Ritalin, but also have
Focalin
, Concerta and
Vyvanse
sample scripts. For a couple of weeks I'm just going to enjoy my old standby, though. I took some last night before I went to sleep (yes, I know that's contraindicated but it often *helps* me get more relaxed, satisfying sleep) and it was just a huge fucking relief.
Another big relief is that he gave me a sample kit for
Lamictal
(a mood stabilizer). I don't feel like getting into a discussion at the moment about whether or not I'm bipolar, but either way it sounds like a safe drug (even if you're trying to get pregnant or are pregnant) that's worth trying. I'm not sure whether or not I *will* try it, but I can't describe what a huge relief it is to have it here and to know that if things get any worse I have something that will probably make it better. I'm going to wait and see if I continue to have dramatically fucked-up mood swings (example: getting one of my "brilliant ideas" and getting so worked-up/hyper-enthusiastic/crazily-driven that I'm pacing uncontrollably for a few hours then plummet into a state of horrifying self-loathing and hopeless depression lasting twice as long as the crazy-high; apparently "they" are expanding how they diagnose bipolar disorder so it's not just limited to people who cycle slowly from one extreme to the other). I'm still going to see an endocrinologist to find out if there's a hormonal problem fucking with my head, and I know lack of exercise and stress are other big factors that can make people crazy but sometimes meds can work miracles, even if you just try them to learn how it feels to be different or are reminded that things can be better.
I just have to say HUGE RELIEF again. That's what it is. To know you have options and boosts. To know that if things get worse there is help to be had (and that things don't HAVE to get worse before you seek it out).
Labels: depression, drugs, fears, health, ritalin, therapy
Wednesday, May 02, 2007
Head Cleaner
HEAD CLEANER
After waiting half an hour yesterday for our internet connection to return in time for our shows
, it was time to shit or get off the pot; we decided to cancel and put our time to better use than repeatedly dialing the cable company.
We left our downed-connection at home and drove over forty miles (over 80 round) to the nearest Best Buy so we could get a MiniDV camcorder head cleaner; our videos have been coming out with some bizarre chirps and bleeps and wacky messy visual disturbances and it took me a few months to realize it's probably because the heads are dirty. I'm not so smart about those things. Too bad I just spent hours downloading six videos the other day and will have to redo at least some of them to reap the benefits of the newly cleaned heads.
Anyway, I hope the cleaned-up video for members will make up a bit for the lost show. I also scheduled
a make-up show for Friday evening
.
Speaking of head cleaner, my return to Ritalin has been treating me well. I do feel like I need to post a status report for voyeurs so they'll know when I'm medicated and when I'm not (because my behavior IS noticeably different) since I don't have enough of a stash right now to take it consistently and have no idea when I'll get an appointment with a doctor (I left a voicemail with my psychiatrist yesterday but then I pushed the wrong button and have no idea if I actually saved/sent the message) PLUS I have no intention of taking all three doses every single day. For one thing, a girl has got to eat; most of the time food is not very appealing when you're on stimulants. Just as an example, since yesterday was a special day (May Day, five year anniversary of my site, etc.) I wanted to fully enjoy good food and not have any of my natural tendencies repressed or subdued so I didn't take any pills.
The ability to take medication vacations is one of the things that I like about stimulants; they don't stay in your system very long (four hours for what I take), they don't take weeks or months to start working, you can take them as needed or not, and you're not going to have a total meltdown if you decide to go without them (though of course you will have all your ADD or ADHD symptoms come back, sometimes rebounding in an exaggerated way like a kid with a mild case of Tourettes who has managed to control most of her tics all day at school and then comes home and unloads a volley of pent-up energy; it's not the same thing, but is the only thing I can imagine that might feel similar except without the holding-it-in part since the meds take care of that without any conscious, painful effort).
My apologies to those of you making it through this entire entry but aren't really interested in this stuff. I would try to keep some of this to myself but it seems like there's a significant number of readers and members who find ADD and stimulant talk useful/interesting, and it definitely helps me to blog about it.
Bubblegum lovers: since dry mouth is a side effect of stimulant use I am counteracting that by chewing and blowing more than normal on my spycams.
Labels: announcements, attention deficit disorder, bubblegum, drugs, food, health, mundane, ritalin, shopping
Sunday, April 29, 2007
An Unusual Silence
AN UNUSUAL SILENCE
If you've been watching
my spycams
the past couple of days and noticed an unusual silence, it's because I decided to try Ritalin again. No loud, angry outbursts of swearing! Isn't that refreshing?
I'm still noisy in the fart arena, though. Yesterday I sat down at my desk and ripped the craziest-sounding fart with a squeaker on the end; I burst out laughing, it was so cute. THAT IS WHY WE HAVE AUDIO ON OUR SPYCAMS! Also, last night I posted
a short fart video
in the behind-the-scenes section of SpyOnUs. Here's a picture of me farting from my favorite gallery we shot last week: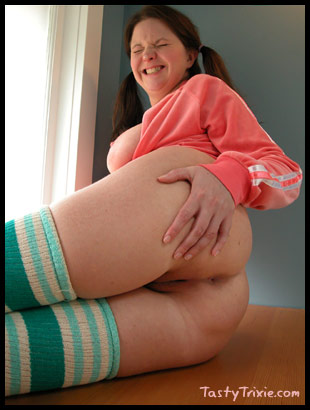 Full Gallery coming soon in my Members-Only area.
Join TastyTrixie.com or SpyOnUs.com for ALL of my long sock photos!
Anyway, I hope you don't miss seeing me ripping out my hair and hearing me throw conniption fits over stupid little things because while I'm dosed on speed I generally don't freak out like that.
Labels: announcements, attention deficit disorder, bodily functions, drugs, ritalin, spycams