Wednesday, January 07, 2009
Hard and Soft (PICS)
My mom passed her DNA for knockers down to me and also taught my sister and I how to deal with the problem of having one nipple/areolar complex erect and bumpy with the other one soft:
One time as we were about to leave a public restroom my mom noticed she had one stiff nipple and paused before exiting to stimulate the other one over her shirt so they would match. She did try to get bras and shirts that would prevent them from being super obvious, but when those failed to do the trick (you'd need armor to guarantee 100% no-poke-through) she felt compelled to make both of them stick out if one was being stubborn anyway. Nipples do get hard sometimes when you pee so . . . yeah. I hadn't just peed in the photo above, but I'd given one boob more attention and didn't realize how obvious it would wind up being in the picture. Clearly I am not as conscious of these things as my mom is. Or maybe I'm just not as sensitive? Hmmm . . . well, there's some suggestive kinkiness for the portion of my audience with a special interest in big boobs, nipples, and . . . other things.
*****
I would love to stay up and finish editing this set of photos for members, but it will be better if I get back in bed and disconnect. PMS is in full effect and I woke up an hour too soon. I got a late start this week when I got a headache Monday and spent Tuesday recovering and trying to prevent more headaching. Now the hormones are kicking my ass and making me act/feel like a monster so I'm going to call the amount of work I did today "good" and say goodnight. Tomorrow members can see the rest of the curves and long socks and a sparkly dildo and furry beaver and underarms (not to be hairy much longer, though I'm sure I'll grow it back out again in the future, but that's why we shot this set in black and white: to really show off my bush).
Labels: body hair, boobs, hormones, long socks, natural boobs, PHOTOS, PORNOGRAPHY, work
Saturday, October 13, 2007
Back to School, Girl!
From a gallery I'm posting for members:
Why, yes! I *do* love legwarmers!
I must confess, the gallery is not that great but I think the commentary is hot; I could have written three times as much, but I don't like to make my notes so long that people won't want to read them.
I'm way behind on email, and I'll have to stay behind for awhile since we have to do our taxes this weekend. I did, however, take time to procrastinate on them by watching some college football (not that I'm a sports enthusiast, but I'm not a schoolgirl either and yet I like to dress up as one; it's that time of year and it's FUN). I hung out in
our members-only chatroom
while we watched the first half of the game, but alas, no one came in to chat. There's no telling when I'll make it back in there.
Now I need to finish my update and clean off the big table so I can spread out with my receipts, forms, sharp pencils and old-fashioned calculator.
Labels: bare feet, legwarmers, long socks, PHOTOS, PORNOGRAPHY, short skirts
Friday, June 15, 2007
Out of It
OUT OF IT
I'm here, just feeling the pull to be away from the computer (or at least not communicating through it).
Honestly, the only thing I feel like blogging about is So You Think You Can Dance and my big-ass crush on Faina. Fans who want to know my "type"? All I can say is that both her and her brother, Stanislav, from last year are HOT. I know, you think I don't like skinny girls. I know, I don't usually like blondes (re: Stan). But these two give me SHIVERS. I could watch them all night.
Everyone said this little number was horrid, and it does look stupider when you can't see her hot pointy little facial features with her hair whipping around in her face, but I could watch her doing this over and over and over all night long. Might be my long sock fetish feeding into it, but I just think she's SO hot, especially doing these moves that are sort of awkward with her long skinny limbs. FUCKING HOT:
I imagine there's something about her and Stanislav's personalities that the type of people who love them aren't the type of people who sit around all night casting cell phone votes for them. I love their icy steamy hotness (but we never vote). Yum, yum, YUM. Here they are dancing together:
I could watch her mouth and legs moving around for a whole month and never get bored.
Labels: long socks, television, TURN ONS
Wednesday, May 02, 2007
Hot for Bubbles
HOT FOR BUBBLES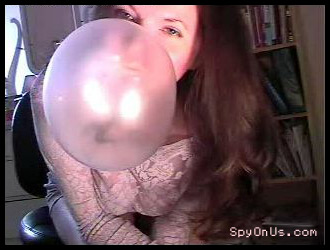 See my shows & bubbles by joining TastyTrixie.com or SpyOnUs.com.
My nascent bubblegum fetish is getting bigger and
bigger
and BIGGER. I can't resist integrating it into my group webcam shows (as in the above image snagged by DavieUK during one of my Monday shows) and I'm beginning to crave it during (non-recorded) sex.
After my late show on Monday my g-spot was still craving action so I lured
Tucker
into the bedroom and climbed on top of him to rub my long-socked legs all over him. I suddenly felt like if I had some gum to chew and blow everything would be PERFECT. And then I got an urge to not only wear long socks and blow bubbles while fucking, but also to slap Tucker silly. Alas, he said he would need to be tanked to endure a slap-session and because I'd already combined in my head the gum-chewing/blowing with the face-slapping I didn't even bother getting off Tucker to go into my office for gum. Instead we had a loud and heated session of "regular" sex including some doggy-style after my orgasm. I have never had an orgasm while being fucked from behind (except with the aid of a vibrator) so even though I enjoy it and experience pleasure from it, we usually don't do it that way unless we're in extended-play mode. Unfortunately no one sent me a screen capture from that session, but I imagine those watching were too busy with other things to be copying and pasting screen grabs.
As some of you've heard already, we're going to start an ongoing contest with monthly winners for voyeurs who submit screen caps. The only reason I keep procrastinating on starting and announcing it is I feel like I need to write some tutorials for those who don't already know how to do the print screen thing. I also have some software to recommend for people to be able to automate the process and even capture video with audio. I'm sure some fellow webwhores will think it's totally irresponsible of me to teach viewers how to archive our live performances and spycam moments, but I don't really have a problem with it as long as they don't try to resell them or post scads of them on message boards, etc. I actually feel like it's totally taking advantage of members to get them to record content and then send it to me so I can use it to make money. Seems like a fair trade to me when it boils down to it.
*****
I'll be posting more bubblegum and long sock content to
my members area
today so if you're not sick of my bubblegum obsession, you'll be pleased.
FYI: the bubble in the above pic was blown with four or five pieces of Bazooka.
Labels: announcements, bubblegum, fetishes, long socks, SEX, spycams, webcam shows, webwhore insights