Tuesday, June 23, 2009
Nature's Credit Card
I love casinos.
It's pretty rare that we go to them (and we have LOTS of nice ones on reservations in Western Washington where the tribes actually make decent money off of them instead of simply being exploited by outside corporations which is what happens in most states) and the amount of money I spend is trifling, but I still love walking around in them and being absorbed by the noises and orderly rows of tables and machines.
A few nights ago I needed to get out of the house so I went with
Delia
to her 12-step meeting. Meaning I went along for the ride, dropped her off, and headed to the casino by myself. Delia doesn't like wandering around aimlessly in casinos the way I do so I really got to enjoy spending an hour there with my free Sprite, completely overwhelmed and unsure what to do with myself (but in a good way). Eventually I made a $7 donation to the tribe via penny and nickel slots after I figured out how to get and use their club card.
I allowed myself to be completely unhurried and take as much time as I needed to make and execute the simplest of decisions, like whether or not I should remove my club card from the lanyard so that it wouldn't be dangling across the screen or tying me up by the neck to the machine. Seriously. I spent ten minutes trying to figure that out and get the card OFF the clip. I am not very bright or coordinated, especially when there's a lot of distractions around so it's a huge relief sometimes to be completely alone with nobody (I know) watching and just allow myself to sink into being massively stupid, completely enveloped in the casino atmosphere where you're allowed to publicly do nothing but throw money away while you sit on a stool and look at little pictures of monkeys and fruit and BARBARBAR spinning around. For hours. I suppose that's pathetic, but it relaxes me to feel no pressure. To not have to try to be smart. To be hidden between the slot machines that are all taller than I am.
I love casinos enough that I would throw much more money away in them if I could afford to. Enough that I can envision myself having a serious problem, especially if I ever learned to confidently play cards which is one of those perfect-for-Trixie ways of being around other people, in a completely structured semi-social exchange where the object isn't to chat, but to play and to win. Everybody has a clearly defined role. There are RULES. I like that.
But I don't have money to throw away so after I (ever so slowly) spent my seven dollars I wandered around looking at the steakhouse menu and the cafe menu and the people and the machines and the gift shop. And while I looked at the two pound steak special it occurred to me that it would be very convenient if someone offered me money for sexual favors. That I would DO IT without hesitating, return to consume my blowjob-earned steak, and spend the rest of it on slots.
On the Golden Girls, Blanche referred to buying things with her body as "using nature's credit card". I wonder: what is the percentage of women who 1) want things and 2) immediately scan the room for men who can provide the means for procuring the things that they want. I imagine it's pretty high. It seems perfectly natural. And of that number, how many would use "nature's credit card" to seal the deal?
Of course I wouldn't do that at the casino. Probably not. Unless I did become addicted to gambling.
When the thought first (naturally) crossed my mind it seemed totally logical and if it would've only taken 20 seconds for an opportunity to present itself then YES, I would have done it. But after a minute reality set in and I realized I wouldn't have time to do that before Delia's meeting was over. I don't know enough about the casino to know what the risks are. I have no desire to be publicly humiliated there or never allowed to return. I'm not sure what safety precautions to take. And the whole thing would be so much messier and uncomfortable in real life than in my imagination. Plus the guy would probably offer way less money than would be worth it. Plus I really didn't feel like talking to anybody.
But I didn't look "hot" so I'd have probably performed, for example, a low-priced handjob with my tits out for groping if I knew it was safe and the guy didn't want a big long conversation. Unfortunately, I'm not in a position to ever know for sure that something is safe. And I hate the idea of someone following me around, eyeballing me before they make an approach, or worse, following me around afterward when I'm trying to enjoy the money I earned.
It's much better to be a lone stranger in the casino that the security guys suspect is autistic rather than a prostitute. I didn't feel like smiling at anybody or talking. I veered away from a chunky black guy earlier (before my whore light bulb dinged outside the steakhouse) who seemed to be pursuing me; in hindsight he might have been a perfect mark for that handjob exchange. But at the time I just wanted to sit alone on a stool at a slot machine without being hemmed in by people on both sides.
At the printing company where I used to work there was an autistic guy working in the art department. He scanned logos and cleaned up the artwork. I briefly worked there too on the night shift. Sometimes our boss would look at me working, obsessively sharpening the edges of black, shaving off pixels that shouldn't have been there, and would complain with a laugh that I worked exactly like Bill (the autistic guy). I took it as a compliment even though she didn't mean it that way. Even though she liked Bill better than she liked me, what she meant is that it had been revealed to her that I wasn't so fucking smart; I was actually slow and retarded with no clue how normal people do things.
Everybody liked Bill. So did I, and when someone got in his way when he was headed somewhere or tried to stop him and engage him in conversation and he'd pointedly stare straight past them above their heads and try to GET AROUND THEM, to steamroll straight past them, I totally understood what he felt like. The shortest distance between two points is a straight line, but very few people respect how we want to go directly from point A to point B without someone interfering with our straight line. GET OUT OF MY WAY.
I think it's that desire to connect the dots (going from *not* having something I want to procuring it) in a very direct way that makes turning a trick in a casino to get money for a steak and more time at the slots seem perfectly logical and also anathema to me. It's not a moral or ethical issue to me at all. It's not natural to me to think about it in those terms. The notion of NOT doing it because it's "wrong" is complete nonsense to me. There are plenty of reasons not to do it, but that's not one of them.
Anyway, I had a good time by myself at the casino. I used to hate public smoking, but now that it's illegal (except on reservations) it's been so long that I actually sort of welcomed the stench and that whole Vegas smell. I was dizzy by the time I left.
Labels: addiction, fantasies, human nature, money, sex work, sociopolitical commentary, values
Saturday, September 06, 2008
Rubber Swim Caps
After taking swimming lessons as a kid, I haven't spent much time in pools, but I want to get in the water more often so I dusted off my old rubber swim cap (barely used), bought a new one (the purple one below) and replaced the old broken rubber strap on my goggles. I tried everything on during one of my webcam chats last week and was extremely pleased with the results:
I can't tell you how much I love wearing my swim caps -- it has all the pleasure of a corset without the hassle and expense. A corset for your BRAINS! They're snappy, squeaky, thick and delicious and wearing them reminds me how glamorous I thought women were who wore do-rags and turbans when I was very young. LOVE! I am INCHES away from shaving off my hair and wearing swim caps full time (and paired with earplugs it would be delicious deprivation of auditory perception). Except without the hair I don't know if it would be as pleasurable to remove the swim cap after thirty minutes or more of wear; there would be less hair-pulling, but too much cold to enjoy the slow expansion of the head and hair-floof back to maximum size.
And don't even get me started on goggles . . . this is my LOOK! I think it's totally cool when there's a reflection on just one lens.
*****
Swimming was fun, but I went alone and was actually nervous about doing something new: would they have lockers and if so, would they provide locks and keys and something to hold onto the key while I'm swimming? Would I have to pay for each scheduled event I stayed for or only the first thing I showed up for? Would I be horribly slow and block faster, fitter people from enjoying their laps?
I managed to go despite these nagging anxieties and enjoyed myself, even if I can't seem to swim in a straight line and kept kicking the wall during my sidestroke and wound up with a scraped foot. I love being immersed in the water. I love the colors and sounds of an indoor pool. I love everything being muffled and wet and full of vapor. I love floating and turning and being thick and mobile.
I felt calm and heavy afterwards. It's good stuff. In fact, I went back for more and posted a confession/fantasy today for members that I had about myself and
the nerdy lifeguard
.
Labels: anxiety, beauty standards, chat, confessions, fantasies, fetishes, PHOTOS, things I treasure, TURN ONS, webcam shows
Tuesday, September 02, 2008
Company Coming Over
Just a quick post to say that we have family visiting today and tomorrow so some of our cams and audio will be down. It's been too long since we've seen our nephew and we haven't even given my sister her present for her birthday which was a month ago. It's a hot pair of peeptoe sandals so in the back of my mind I'm hoping I can get a set of foot-focused pics out of her while she's wearing them, too. Is that so wrong? PROBABLY!
Some snaps of me from the last time we had company over:
My psychiatrist's office finally called back so I made an appointment to get back on Ritalin. I got a huge headache yesterday because I've been trying to use caffeine instead of prescription stimulants and caffeine? It's pure fucking evil. I don't have to consume much over the course of three or four days to suffer nasty consequences.
Even though I was almost totally out of commission yesterday with the headache, I did manage to write and post for members
a sicko masturbation fantasy
I had. I'm not sure if other people will jack off to it, but it's an interesting peek into the mind of a woman and how the threat of violence from men is a constantly disturbing companion that can't be safely separated from sex in our subconscious minds. Our brains are diseased with scary men.
Labels: attention deficit disorder, family, fantasies, fears, friends, gender issues, health, human nature, masturbation, mundane, PHOTOS, sexuality
Thursday, January 31, 2008
The Scent of Nostalgic Sex
Last night we had sex almost purely for the fun and pleasure of it (rather than as an obligatory conception attempt). I rubbed some
Skin Trip
lotion all over my face and neck, then all over
Delia
's face and neck. It smelled like a hundred hot, tangled-up memories from the past eight years. We lit candles so the light had the same quality as the light in a million indistinguishable, pleasant past-times. I put on music from albums I've had since I was a teenager. I would say that it made me feel young again, but that's not quite accurate; I think it made me remember that I used to be younger than I am now. It was like visiting myselves from years past. It was sweet.
I was really excited about having my boobs touched through my t-shirt, excited about looking down at them stretching out the thin fabric, watching them being groped and jostled and making the material covering them crease, tighten, tense, release. Excited about having them pressed upwards and jiggled around. I was adamant about having them fondled up to and throughout my orgasm. In the moments before and during, I was thinking about touching
this girl's nipples
, imagining both having them as her and touching them as a him. I got off on it, guiltily, because that's the hottest way for me in my head.
Labels: aronatural boobs, boobs, fantasies, memories, PHOTOS, PORNOGRAPHY, SEX, TURN ONS, voyeurism
Tuesday, November 06, 2007
Almost did something crazy . . .
I almost did something crazy just now . . . I started filling out an application to work in a grocery store.
Oh my god! Is money REALLY that tight for Trixie? Or is she quitting webwhoring? Errr . . . what the fuck?
It's nothing like that. It's actually more embarrassing than that; I don't NEED another job,
I just really like cashiering
. Sometimes when I go to the store I am jealous, and I just think it would be fun to pick up a Saturday or holiday shift or a busy dinner rush now and again. Sometimes I just want to get out of the house and do something regular, normal . . . something with a rhythm and set of rules. Something with clearly defined boundaries. Something where I pick things up, move them only a couple feet, then set them down in a bag. Something that doesn't require a lot of complex thought. Something that doesn't involve planning for the future. Someplace where I'm never asked to make big decisions.
Sometimes I'm just tired of being in our house, and I don't want to socialize exactly, but I want to interact (in very predictable, regimented ways) with people. I guess normal people would go out and have a drink with friends in my situation, but that is SO INTENSELY BORING AND COUNTERPRODUCTIVE TO ME. The thought of sitting in a bar drinking to relax just bores me STIFF. But the thought of having a mundane, repetitive job sounds relaxing and wonderful to me. I like counting money and typing on little keypads and scanning things. I would be standing up and lifting things! I would feel so efficient and pleasantly robotic.
I know I have a college education and I don't *have* to get a job like "that", but how can I explain how much I want one sometimes? Sometimes I just want things to be simple, rote. Cashiering is like a video game job.
I can't really afford to take time off from our sites to have a smiling robot job, though.
Part of me seductively whispers that maybe it would REFRESH me for my real job here in internet porn.
If I knew I wouldn't be pressured to work when I couldn't and I knew I wouldn't have to wash toilets or face product or, god forbid, MOP anything, and I could just work at a checkstand, like, once a week or something . . . I would totally do it.
I feel like I shouldn't be admitting this.
I feel embarrassed about this desire, but today isn't the first time I've felt this way. Lately I have been fantasizing about getting a temporary job doing data entry (there's nothing like that available in our town so it really is just a fantasy). I enjoy the world of what-other-people-consider to-be menial labor. I enjoy the structure of it. And I really like typing. Do you know that? I REALLY LIKE TYPING. I like the sound of it, the feeling of it. I like the cadence of data entry. I like escaping into work that only requires lower-level thinking. I have told myself that I could pretend in my head that I'm only getting a job like that as research for a book, but that would be a lie. I just like learning the little subcultures of wage-earners.
People who've never had normal jobs like this, I'll bet they don't know how fascinating they can be and how interesting the people you work with are. There are the people who are surprisingly interesting, and there are the people who are predictably dull. And I usually like them all. I would never want to feel stuck in a job like that, but those kinds of jobs can be extremely SATISFYING. They're mechanical, manageable, and fun to master.
My job(s) right now? I will never "master" any of them. Sometimes that's really cool and exciting and sometimes it just makes me feel tired and want to cry.
Sometimes I just want to have a stack of work and see it visibly reduced as I complete each piece, one at a time. Sometimes I just want to know when my shift is over. Sometimes I just want to be faster than someone else. Sometimes I just want things to be simple, and to go home and spend the whole night reading a book or watching tv without feeling guilty about it because I should be doing something creative and productive and special. Sometimes I don't feel like I can be productively creative and sometimes I don't want to be special. Sometimes I just want to be a worker bee and enjoy being a well-oiled piece in a bigger machine. Sometimes I want to be able to blame corporate or upper management or just some dickwad above me for my problems and limited range of motion. Sometimes I am just so tired of not having anyone to blame but myself.
Sometimes I just want to know exactly what the people in charge of my paycheck want from me, and to be able to ask them that point blank if I don't.
What do you want from me?
Sometimes I just want to know who those people are, and have there only be one or two of them. With my job(s) right now, it really is cool and almost divine to be able to make so many people happy in so many different ways, but it makes repeated success complicated and unpredictable. Everyone wants something different and everyone is so many people in so many different time zones. Who are they? What do they want from me NOW? This is not easy, and the only way to make it easy is to only care about yourself in a way that requires turning inward too far.
Sometimes I want to know that I can quit, but the problem is that I can't. I can never and will never quit this job I have now. This is my work and it's what I'm supposed to do with most of my life. Sometimes it's boring to have found your life's work and know that you're never actually going to be GREAT at it. It (in all of the different forms it does and will take) will be special, but it won't be GREAT. The best I can hope for and work towards is that someday it will be more profitable, but money is not as great a motivator as greatness, so these days I move forward very slowly.
Sometimes I'm depressed, and that sometime is now (especially without the wonderful, magical, mood-stabilizing happiness that is hormonal birth control). Sometimes I feel like a failure for being a regular person, and sometimes I feel like I'm about to really EMBRACE being average and become crazily happy with that. Sometimes I am.
Labels: class, confessions, escapism, fantasies, goals, hormones, money, spiritual issues, webwhore insights, work
Wednesday, October 17, 2007
Family & Holidays
"Family & Holidays" sounds like a title for a tired, bitchy entry, but it's not.
I'm not sick of my family, I'm sick of not seeing them as much as I want, as often as I want. Right now we're separated by many miles and large bodies of water (Hood Canal and Puget Sound to get to my sister/nephew/brother-in-law, plus Lake Washington in my mom's case) that take at least a couple of hours one way to traverse.
For the past few years we've celebrated Thanksgiving and Christmas on off-days, before or after the actual days on the calendar, so that we wouldn't have to contend with holiday traffic. I've enjoyed that, but now that my sister has a kid and we're planning to have one ourselves and we're all just getting older, I really want to live close together, to be able to walk to each other's houses or at least be within a fifteen-minute drive of each other.
In a bizarre new twist in my fantasy life, I've actually been fantasizing about Thanksgiving and Christmas. About celebrating on the same days everyone else does. Eating turkey at one of our houses, then walking to one of our other houses for pie. I've been fantasizing about the cool outside smell of late November as we walk to my neighbor/sister's house with a big bowl of cranberry sauce. About seeing my nephew, who is now (for real) singing, walking, and signing like crazy, every day.
I fantasize about living close enough to my mom that I can see her in short, fun, frequent bursts, instead of long, painful ordeals built up by ridiculously long drives.
I want to be able to pick up flowers or stupid gadgets during a grocery trip and drop them off at my mom's and sister's houses. I want us to play cards at night with my brother-in-law and sister after the kid(s) have gone to bed. I want to smell each other's houses so often that they all feel like home. I want all of us to get fat and happy eating from each other's tables.
Whenever we drive around town lately I imagine we're driving to my sister's or mom's house, and that we're only a minute away from arriving.
*****
My sister and brother-in-law actually want to move to our town, so that part is settled in terms of goals. When that actually happens, I think our mom will get on board too. The problem right now is of course just money. Part of me feels certain it's completely in my power to make this happen within a couple of years. Another part of me is just so slack and unambitious, I get annoyed with myself.
Part of the problem is I'm pretty content with our lifestyle and what we have so it's difficult to feel motivated to make more money. Yes, I'd like to have our own house, health insurance, no credit card debt and to be near my family, but the reality is I hardly feel the absence of most of those things. I feel pretty fucking comfortable.
In the past I've been motivated by the fear of failure, and since I don't really worry about failing anymore I struggle to feel motivated. I feel like I need to perform a bunch of focused mental acrobatics at this time in my life to encourage myself to run harder and faster to realize my now ultra-mundane dreams. I'm simultaneously frustrated with myself and stultifyingly content. I make myself sick with laziness yet I'm also sickeningly happy. The only thing that seems to light a fire under my ass is watching videos of my one-year-old nephew and missing the chance to see him often while he learns new things.
*****
I've never hated the holidays. Yes, I've hated celebrating birthdays and hated SHOPPING for holidays, but the actual Thanksgivings and Christmases have had so much goodness I can separate them from memories of family dysfunction, like when a huge Thanksgiving fight ended with my grandpa verbally disowning me. My family is smaller and less dysfunctional now, plus I miss my dad who LOVED Christmas and gift-giving; maybe that part of him inhabits me now and urges me into this sentimental frame of mind. I don't want to spend one single Christmas day on the road, I want to spend a whole week with my family, with kids in sleeping bags and no worries about how losing sleep staying up late together on Christmas eve to play Santa will potentially cause a car crash. I want to go to church with my sister, and argue about which one we'll go to. Maybe we'll switch off.
*****
Going to watch a video of nephew then slog through the more mundane aspects of my work, trying to stay focused . . . trying to remember what's MOST important out of the billions of things that are important to me.
Labels: family, fantasies, goals, memories, money, mundane, Seattle, thanksgiving
Tuesday, September 11, 2007
Short Arms Make for Good Pedicures
SHORT ARMS MAKE FOR GOOD PEDICURES
I got a girly foot job today. Because there was a special half-off deal going on. And because we rented a nice room to shoot in tomorrow and really, what's the point in blowing money on a fancy room to shoot swank nudey pics if your toes look nasty?
My "nail technician" was a cute heavy-set blonde with her hair done up in Bjorkesque knots. She was not much taller than I am so her arms were pretty short in comparison to her boobs which stuck out a lot. As a result, my toes patted and prodded her fluffy pillows of breastage. During the massage portion, my feet (one at a time) were even engulfed in her cleavage.
I know you all think I'm a total fucking pervert who couldn't help but get off on this sexually, but honestly I kept my thoughts pure in spite of the pleasant feeling of my feet touching a cute-looking woman's breasts. I *do* love touching people with my feet on both a sensual and sexual level, but I got the feeling that this girl was fairly new to her craft; she seemed very preoccupied, as though she were trying to follow a script she learned at beauty school or was handed by the salon owner.
I'm guessing it's probably difficult to have her body invaded like that when she's trying to work and that she has to do some mental and emotional work-arounds to deal with having strangers' feet jabbing and patting and smushing against her tits. My feet are really small so I can only imagine that people with normal or large feet REALLY press up against her. Given her inexperience and her personality I just felt sort of awkward on her behalf. Awkward in a way that would be hot if it were fiction, but that any decent woman could resist eroticizing (at the time, anyway). My nail technician seemed to hold her cards close to her chest when I tried to get her to talk trash about our respective towns; she avoided say anything very personal or in a familiar tone.
She was pleasant, but clearly had her guard up. I chalk it up to the boobs and being new to her trade, but it might also have been because her boss could hear us. Regardless, I felt it was NOT the time to be getting all horny over the feet-on-boobs action. Even when I saw my little toeprints-made-of-lotion dotting the front of her black shirt. Even when she said, "you're still wet so I'm going to keep you here a little longer." Even then, I did not allow myself to indulge in x-rated fantasies.
"But Trixie, it's not like she could read your mind! Why censor your thoughts?"
BECAUSE. Sometimes dirty thoughts leak out like bad gas and fill a room with discomfort. I believe they do, anyway. Some people can intuitively pick up on someone else's hard-on, even if it's purely mental and poses no physical threat. I have no desire to victimize a professional nail technician even if the victimization is only happening in my head. It's just disrespectful . . . sometimes you have to rise above your baser instincts. Without acting rigid and readably uncomfortable, you have to detach yourself, particularly when you see that the other person is sending signals that detachment is what she needs.
People who touch other people for a living without actually doing sex work -- therapeutic massage, nails, hair, facials (haha), etc. -- still provide very intimate services that are supposed to make customers feel good, physically and emotionally. I think they go home feeling similarly emotionally exhausted by the shifty boundaries they've dealt with all day, touching people's sweatiest places, hearing their stories, trying to be receptive to chat while not annoying clients by talking TOO much themselves (or entertaining clients who like that sort of thing). I think they deserve a lot of respect (and good tips) for that and deserve to preserve some boundaries; I would just feel wrong about violating that, even in my head. Especially when my feet are already on her boobs.
Labels: arousal, boundaries, customer relations, ethics, fantasies, luxury, privacy, TURN ONS, work
Tuesday, August 21, 2007
A Peculiar Idea
A PECULIAR IDEA
I'd like to bone up on my bible verses so I can randomly quote scripture during my masturbation shows. This would be comical, provocative, mysterious, surprising and bizarre -- all of the ingredients for great entertainment. Plus I already have quite a headstart on the memorization of bible verses having
attended Awana
, vacation bible school, and a couple stints at a "
Jesus Camp
"like camp as a pre-teen.
Actually, it's been on my to-do list for quite some time to create some bizarre revival-style monologues on video for my site, mixing crazed redneck Christianity with fiendish descriptions of all sorts of sexual perversions, alternately inviting worshipers to repent AND participate in said fiendish sexual scenarios, either with me or in my presence as the cultish lunatic minister. It's a project I'm so fond of, however, that I'm hesitant to do it unless we have the time and money to do it with higher production values and more writing and rehearsal than usual. Not that anyone is clamoring for this type of content, but *I* would love to play that part AND to watch something like that so . . . someday.
*****
I just ripped a fart that actually BURNED whilst exiting my bunghole.
*****
In about an hour I'm leaving for a hair appointment to bleach more blonde into my tresses. It seems just plain wrong to me, considering that the stores just put Halloween candy up on the shelves and I really want to go darker again, but whatever. I'm starting to enjoy switching it up and am thinking that next time I will try more red before going dark again.
WWJD
?
Labels: beauty standards, fantasies, goals, religion, webcam shows
Raspberry Lip Gloss
RASPBERRY LIP GLOSS
Just awoke from a dream in which I was a man with a very large rod masturbating in my very posh living room, trying to hide it from my wife behind a magazine. Orgasm number one shot a gluey fountain above the magazine. Orgasm number two? Turns out my wife is Beyonce; I fucked her asshole. It looked like she applied raspberry lip gloss to it.
Herein lies the benefit of getting just a little too much sleep.
Labels: dreams, fantasies, orgasm
Sunday, July 29, 2007
Full Moon
FULL MOON
While Delia and the dog slept, I snuck outside at 2 am to shoot the moon:
She must be camera shy because she ducked behind some clouds as I set up the tripod.
*****
If I were to take up a useless hobby for the sole purpose of pleasuring myself, it would be night photography. Stuff lit by headlights, moonlight, flashlights. And by "stuff" I mean trees, lines painted on roads, and sinister figures under street lamps. It's my impression that you really need to shoot with film to do night photography justice, so I doubt it's something I could really get off on properly without spending a serious amount of time learning real equipment and techniques (which I've not really had to invest a ton of time or money in to shoot porn; we get by with very basic information and an amateur camera).
I have a fear that someday when I finally *do* take up this hobby, that all of the country roads that inspired me to love driving at night as a teenager will be gone. It's a realistic fear.
Labels: escapism, fantasies, full moon, goals, night person, photography, PHOTOS
Friday, June 08, 2007
Cloud Nine
CLOUD NINE
I wrote the following "blog" entry for our affiliates to plug into their own blogs to try to get people interested in a membership to Delia's site:
Some people's idea of heaven is a hot chick with a dick, someone like
Delia
, a devilish angel with a she-cock: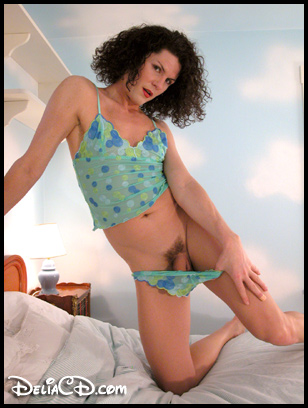 Full Gallery appearing now in Delia's Members-Only area .
JOIN NOW for ALL of her pics, vids & spycams!
If there's a God, s/he surely must have populated the fluffy clouds of our afterlife with dreamy companions fusing the anatomical wonders of both genders, defying the restrictive binary categories of our earthly lives and elevating us to a place where true transcendence is exhibited everywhere. You know what would be even cooler? If upon entering heaven we got to construct our own hodge-podge anatomy, like plugging parts onto a Mr/Mrs Potato Head.
I'll take the milky DD breasts, a very tight hairless sphincter, a vagina hole and a gigantic uncut cock placed directly atop said vagina hole. And really well-developed biceps so they won't be dwarved by my extra large wings.
I hope they're also passing out non-scratchy elasticized rhinestone cockrings and fuckable eye-sockets. Wouldn't it be great to see a shemale's cock coming right for your eyeball, getting bigger and bigger, and then, like, penetrating it?? And then when she starts fucking your brain you hear music, like heavenly voices, like the Mormon Tabernacle Choir singing inside your head.
I'm on my way, St. fucking Peter, right after I finish masturbating to the latest video in
Delia's members-only area
. . .
I'll admit I didn't write this blog entry; Delia's crazy-ass girlfriend Trixie wrote it and asked me to post it here. She's a total wingnut, but Delia is hot.
*****
This is the kind of thing I wouldn't post in our own blogs (err, well I guess I just did but not without explaining myself), but I *love* writing anyway. For all of the complaining I do about the stupid ways people try to sell our porn, I actually enjoy joining that fray myself because it allows me to feel totally uninhibited; I feel that there's no real standard to meet, subtle soft-selling is discouraged, and I can revel in objectifying us in ways that I know should probably politically and emotionally disgust me. Oversimplifications are welcome as long as they catch people's attention quickly and I genuinely amuse myself in the process of writing promotional text. It's just FUN. I suppose it's hypocritical or at least oddly contradictory on the surface for our own site personas to be what they are and for the promotional text I write for them to be so ridiculously shallow, but I still get a huge kick out of it. Part of the fun is knowing that if I can lure someone to our sites on shallow pretenses, they'll unwittingly become ensnared in webs of the complex realities of our personalities and lives and we'll have subverted the porn "thing".
God that sounds TOTALLY FUCKING EGOMANIACAL. I hope I didn't make you barf. Please, take none of this too seriously. This is only a test.
Labels: body parts, fantasies, PHOTOS, the porn industry, webwhore insights
Tuesday, May 29, 2007
Sunlight/Moonlight
SUNLIGHT/MOONLIGHT
It's been a perfect day:
Tucker
/
Delia
brought home sushi for lunch which we ate outside on the deck (why don't we eat outside on the deck EVERY day? It's fantastic!).
We just now got back home after taking a walk on the beach in the full moonlight (why don't we walk on the beach EVERY day/night? It's fantastic!). There was even the last part of sunset for viewing out on the Strait. We walked by a small RV with a person-tall Christmas-light palm tree displayed under its awning. We walked by a boat anchored nearby with warm lights in the cabin and I could imagine the people snuggled inside, maybe making a snack in the galley; when we walked by it on the way back the lights were off and I could still imagine the people snuggled inside, bathed in moonlight. The cozy intimacy of my imagined images was so palpable I didn't envy the people in the boat at all or want what they had for ourselves; it was actually better to walk past it and just know it was good (but not as good as our night, walking together on the beach and thinking, as I often do, that I could die right then and there and be extremely satisfied with the moment and everything preceding it).
This afternoon we watched
The Beales of Grey Gardens
which has a bunch of footage left out of the original
Grey Gardens
. Little Edie: what a fucking inspiration! I almost started bawling during her swim in the ocean. I think the perfect voyeuristic porn site would revolve around women like the Beales. I adore Little Edie's combination of unself-conscious confidence and her coy, flirtatious flair for the dramatic. I can picture Delia and I in our eighties, still with our spycams, prancing around with floppy boobs, wearing floppy hats, fishnets and brooch-pinned towel-turbans and warbling all of our favorite ditties from decades past.
Here's a little Edie sample for you set to music:
One of the best bits of a Little Edie monologue:
I'd really encourage those of you who haven't seen the movie(s) to see them in their entirity and not just hacked into youtube bits that paint incomplete portraits of our Edies. They are SO GOOD. SO GOOD!!!
*****
The only sucky thing about today is that as soon as my cold symptoms faded I got hit full force with an allergy attack and have been sneezing and red-eyed all afternoon and evening.
Labels: fantasies, Grey Gardens, Pacific Northwest, thanksgiving
Wednesday, April 25, 2007
My Wildest Fantasy
MY WILDEST FANTASY
During one of my webcam shows one man, a Bob, asked me to describe my "wildest fantasy".
I told him paying off my credit cards is my biggest, wildest fantasy.
You really need to qualify a question like that if you want to corner me into hot talk during a free group show otherwise I'm going to tell you THE TRUTH. Before he heard my answer he told me that he was my man and all I need to do is go to Georgia to have my "wildest fantasy" fulfilled. By him. By a Bob. Then he gave me someone's phone number for over 500 people in the chatroom to read. I should have called it and said, "that will be $42,621.05 to fulfill me, Bob."
*****
On a *slightly* more erotic note, one of my fantasies is to lavish friends and strangers with gifts. I am particularly fond of fantasizing about gifting former female friends I'm currently estranged from. I want them to know that I love them even though I'm not a good friend. And yes, I do also fantasizing about giving presents to the women I share in-tact friendships with.
I would write a beautiful, detailed list of some of the gifts I want to give some of these women but at least a few of them read this blog and I don't want to ruin the surprise; I intend someday to fulfill these fantasies, wild as they may be.
*****
Fact: Big Kenny of the band
Big and Rich
had $140,000 in credit card debt when they were making their first album. So don't give me any shit about having all that baggage!!! Debt seriously doesn't kill everyone and anyway, it gives me something to fantasize about that's rife with the thrill of danger!
Labels: fantasies, friends, goals, relationships, webcam shows, webwhore insights