Tuesday, March 10, 2009
Intervening on our own Behalf
After having the worst sales day on Sunday I've ever seen, I changed our Directv package to the cheapest one (that's still not "cheap", but anyway). I also scaled back our Netflix from five discs out to three and got excited about a return to listening to This American Life and music more often. And maybe having the attention span to watch entire movies again -- something we've all but lost in the past couple of years of television immersion.
Some of the cable shows we love best are The First 48, Cold Case Files, Mad Men (swoon), Deadliest Catch, and
Intervention
-- apparently we aren't alone in being addicted to that show because I got a bunch of tweets in response to my announcement yesterday from people who couldn't stand to give up Intervention.
I first started watching Intervention alone and totally felt guilty and ashamed watching it, like only a sicko would watch an hour of a stranger's family's most private, horrifyingly personal, lowdown moments. I'd record them on our DVR and wait to watch them alone until once when my sister was over she saw it in the list of shows and was like, "oooh! Let's watch Intervention!!" The concept of all of us watching the show together embarrassed me, like it's something you should only watch in private (which of course isn't true).
It's not that I think the show is bad -- I think it's awesome, and since then Delia and I have watched it together many times -- it's just really intense and weird. I do think it's informative (I love that they focus on all kinds of addictions and sicknesses from gambling to OCD to Diabetes to eating disorders) and helps build empathy, but it still feels wrong to watch it for entertainment. But we do, I guess. One person tweeted to me that she thinks that show is depressing with a capital "D". And it's true, that's the embarrassing part -- why would we watch something totally depressing for FUN? I guess there are a million awkward answers to that question.
*****
One of the first Interventions I watched was repeated last night and pissed me off in a giant way. The family seemed more concerned with Cristy's stripping than with her drug use, like the STRIPPING was THE sign she was way out of control (and
what a great marketing hook, too
!). Whenever I see that crap it disturbs the fuck out of me the way people alienate someone who already feels totally isolated and judged by being TOTALLY FUCKING STUPID about sex work. I'm not saying that the sick women on Intervention would choose sex work if they weren't in desperate situations, I'm just saying that their friends and families are usually so fucking retardedly focused on that part of it that they contribute to the problem and I've never seen that addressed in any healthy way on the show (though some of the families seem to have it in a more rational perspective).
It reminds me of a story I saw about a missing woman, maybe on America's Most Wanted, told mostly from the perspective of her "loving" parents who OVER and OVER said they knew she would NEVER have become a prostitute in Las Vegas of her own volition and that her evil boyfriend HAD to have MADE her do it and caused her to disappear. They said stupid shit over and over again about how they knew their darling daughter would never have chosen this life for herself and how badly they wanted her back so she could be her old innocent self again. Of course she was probably dead so it probably doesn't matter, but all I could think is that if this woman WAS alive and in a bad situation and saw her parents saying that shit, she'd probably rather whither up and accept her current lot than think she could ever live near them and their unaccepting ignorance again. People are so hyperfocused on how degrading they believe sex work always is that they can't fucking think straight, like these parents who seemed unable to recognize that their daughter willingly chose this boyfriend AND sex work in Vegas, and that the real sad and scary thing was that someone -- possibly the boyfriend -- probably killed her for it. Instead they went on tv, rejected her choices (that probably came from wanting to get away from their moronic idealized perception of her) and shat all over her.
This is why I need to stop watching TV. Because this crap HAUNTS me! And I haven't even said anything about the MOST DISTURBING episodes of Intervention and America's Most Wanted! Gah!
Do they have Intervention on DVD?
No!! I need a break!! NO MORE INTERVENTION!!!!
PS - Ken is totally our favorite interventionist.
Labels: addiction, drugs, gender issues, money, pop culture, television, true crime
Wednesday, February 18, 2009
Wet & Tidy
Yesterday we did a bunch of housecleaning with special attention on two of our most important rooms: our bedroom and the parlor where we do all of our indoor-exercising and sun-catching. After a week of smelling not-so-fresh places (the thrift stores, our van, the smokey-smelling motel room with the "no smoking" sign) it feels so good to be able to walk through our house and have it smell like lavender and other fresh things.
All I want to do is walk around in our house, picking stuff up, folding laundry, stretching, lighting candles, and daydreaming. That's not all I *have* done, but that's how I feel. Like right now I want to take a small container of polished rocks into bed and just pass them back and forth with
Delia
, inspecting their colors and feeling their contours, holding them up to lamplight, listening to dorky new age music.
I feel great. Maybe it's the four anti-inflammatories I took for my period cramps today. I don't know. But it's pretty fucking rad. Maybe it was the sunshine we had the past couple of days and the exercise we got with it shining on us. Maybe it was being able to get work done even while I had to spend time on hold with the phone company. Maybe it's all of the clarifying and focusing I've been doing lately.
If I didn't know any better, I'd think maybe I'd been hitting
one of these sweet pussy pipes
too hard. Or not. Since 40% of the few times I've smoked it's given me major anxiety attacks. Yes, few enough that I could count each of them and calculate the percentage. And right now I feel nothing but peace.
Labels: altered states, anxiety, bodily functions, drugs, mundane, thanksgiving, therapy
Monday, December 08, 2008
Schtuff
Let me toss some tgirl-on-tgirl porn at you before I get all personal and diary-ish(
click
for free pics & sample vid):
This is my favorite photo
in the samples and in general that whole shoot was really hot to watch, plus I love that the resulting porn is both explicit and very sensual. I need to work on my skills as a photographer shooting people other than Delia, though. With
Mandy
and
AmberLily
I didn't do a good job of stopping them and asking them to hold "poses", so as a result there were lots of blurry and awkward shots -- good ones, too, but could've been better. We're still getting used to our new camera which is FAST, but since we don't shoot with a flash or a lot of light we still have to MODEL semi-slowly even though it's tempting when you hear the shutter flying along to dance fluidly along.
*****
Life is good -- there are lots of things going on with me which are mostly connected with making a concerted effort to have LESS things going on and focus on a few high priority things. Right now my personal priorities are:
-exercising consistently (today will be five days in a row)
-eating less sugar and starches
-going to twelve step meetings & getting healthier emotionally and spiritually
-cutting back on a few things to make room for a) making money more efficiently and b) doing more things that I love
The past couple of years my body has become more and more of a challenge for me to feel good about, mostly because I never got into the habit of taking care of it except for getting enough sleep. With the added pressure (and wake-up-calls) of trying to get pregnant but not being able to, it's gotten to the point where I feel really shitty with a litany of symptoms and complaints and hypochondriac fantasies. Long story short, I need to put myself and my health first before everything (and everybody) else.
A lot of times I sacrifice my own needs and desires to work which really is stupid because I can't *do* this kind of work very well when my body feels like shit and I don't provide myself with pleasure on all levels. I can barely stand to look at myself which is, ummm, pretty counterproductive for shooting porn (and editing/posting/selling it myself where I have to look at myself and love myself to do a good job). It's not that everything looks shitty, but seriously -- it's not only difficult for me to bend over to tie my shoes these days, it's PHYSICALLY PAINFUL. My guts fucking hurt.
Before people rush to simple judgments like, "duh! That's what happens when you sit on your ass all day", etc. let me offer a little perspective and extend some leniency to myself; there are definitely some hormonal problems contributing to my issues (all of the thyroid / infertility / depression / migraine / too-much-testosterone stuff and more all connected in a which-came-first/chicken-egg circle of insanity) plus the stuff we've been going through with alcoholism that no one has really been aware of or how it's been effecting us; *I* haven't even been aware of how much of my energy was going into trying to cope with it.
One of the unexpected bonuses of Delia getting sober is that I got to enter recovery too. Only I totally didn't anticipate how hard it would be or that I would totally fucking freak out (which I did, surprisingly, really fall-the-fuck apart the first month and couldn't really understand why when I thought I would just feel relieved and everything would be bliss and perfection). Now that Delia is sober and I'm not constantly thinking about her and trying to control her drinking, I'm left with the way bigger, scarier challenge and problem of mySELF and my own fucked-upedness. Patterns of behavior and sickness that I had before Delia and I ever even met.
I feel really optimistic, excited and fortunate right now, but I also feel like I need a lot of space and time and patience to get healthy in more ways than one. It takes more than a week or a month or three months or a year to feel relief, to figure out what to change (and what IS changing whether you want it to or not), to adapt, and to grow into new ways of doing things. I'm kind of tired and have a lot of stuff to process and let go of so just mending my body, our relationship and going to meetings right now is enough to keep me very occupied. I'd say that I'm sorry I don't have more left over to spread around and to keep doing all the things I was trying to do, but I'm not sorry. I'm happy to be focused on what's important.
Note: I'm leaving comments open for people who want to remark on the Delia & Mandy shoot or those who have their own personal sharing/relating on the subjects I talked about, but I usually do not feel helped by comments containing unsolicited advice, analysis of me/us/our lives and/or criticism even when I know they're well-intentioned.
Labels: body image, depression, drugs, health, my trans partner, PHOTOS, PORNOGRAPHY, priorities, relationships, spiritual issues, therapy, TURN ONS, VIDEO, webwhore insights, work
Sunday, November 02, 2008
Bumps
While I let bigger (and possibly better) blog entries stew, here are a couple of images that might fall into the "bigger" and "better" categories:
In
my last post
I mentioned experiencing some bumpy emotions as I struggled to adjust my priorities and let go and cut back, at least temporarily, some stuff; in the days since that post I've emotionally adjusted, too. I now feel very content and optimistic about my new focus and happy to release myself of certain self-imposed obligations.
I'm being annoyingly vague, I know, but I just want to share that I feel happy and hopeful about my person(al life), relationships, business . . . where I'm/we're at and where I'm/we're going. It feels boringly repetitive to blog about them (
"hasn't Trixie said this a million times in the past seven years?"
), but periodic realignments are necessary in life; sometimes the adjustment process is stressfully turbulent (even when the changes are positive, like when the person you love stops drinking or when you're forced to recognize -- AGAIN -- that you aren't superhuman after forgetting since the LAST time you were faced with that conclusion) but once you get used to it a whole new field of possibilities emerges and there's . . . relief. And joy. And after some rest? New good things. More awesome. Progress made. Love shared. Delicious sappiness.
Anyway, I just wanted to say that things are good here!
Labels: boobs, drugs, goals, mundane, natural boobs, PHOTOS, politics, priorities
Wednesday, September 17, 2008
What's up, Doc?
I'm betting people are curious how my psychiatrist appointment went, so here's a post that's JUST about that:
It was a relief to see him; I was amazed how much he remembered after more than five years, and that was without even having the benefit of reviewing my old records since he moves them from his office to his garage if inactive and older than five years.
Hmmm . . . now that I'm trying to write this I'm not sure how much of it I feel like sharing, not because any of it was bad or even that personal, it's just the kind of thing that requires a lot of context and background information to be accurate and I know people have a tendency to be judgmental about prescription drugs, people who are diagnosed with new labels, etc. On the other hand, I know that for every person who reads this stuff and thinks, "what a crock of shit/loony bird/lazy, oversensitive drug-seeker" there's another person who can relate.
Long story short, I'm really glad I went. It's always so cool to have positive, meaningful experiences with health care professionals where you are helped in a way that also makes you feel respected, empowered and cared for by people who are extremely knowledgeable and gifted. I wish everybody could afford to get the care they need from people who deliver it at such a high and loving level.
Aside from the intangible benefits of going, I came away with my generic 10 mg
Ritalin
prescription and an assortment of other samples and scripts to try since I live too far away to come often (four hour round trip), my insurance isn't paying for it so it's too expensive for me to come often, and I said I can't afford to try anything new after my bad experiences with
Adderall
(it made me feel really depressed and hopeless) I'm reluctant to stray from what I know works for me.
I've only filled the prescription for the Ritalin, but also have
Focalin
, Concerta and
Vyvanse
sample scripts. For a couple of weeks I'm just going to enjoy my old standby, though. I took some last night before I went to sleep (yes, I know that's contraindicated but it often *helps* me get more relaxed, satisfying sleep) and it was just a huge fucking relief.
Another big relief is that he gave me a sample kit for
Lamictal
(a mood stabilizer). I don't feel like getting into a discussion at the moment about whether or not I'm bipolar, but either way it sounds like a safe drug (even if you're trying to get pregnant or are pregnant) that's worth trying. I'm not sure whether or not I *will* try it, but I can't describe what a huge relief it is to have it here and to know that if things get any worse I have something that will probably make it better. I'm going to wait and see if I continue to have dramatically fucked-up mood swings (example: getting one of my "brilliant ideas" and getting so worked-up/hyper-enthusiastic/crazily-driven that I'm pacing uncontrollably for a few hours then plummet into a state of horrifying self-loathing and hopeless depression lasting twice as long as the crazy-high; apparently "they" are expanding how they diagnose bipolar disorder so it's not just limited to people who cycle slowly from one extreme to the other). I'm still going to see an endocrinologist to find out if there's a hormonal problem fucking with my head, and I know lack of exercise and stress are other big factors that can make people crazy but sometimes meds can work miracles, even if you just try them to learn how it feels to be different or are reminded that things can be better.
I just have to say HUGE RELIEF again. That's what it is. To know you have options and boosts. To know that if things get worse there is help to be had (and that things don't HAVE to get worse before you seek it out).
Labels: depression, drugs, fears, health, ritalin, therapy
Thursday, August 28, 2008
Hands Full
I have $150 of my own spending money and am trying to decide which of these things at the top of my personal wants list are most worthy of it:
*a new microphone perfect for podcasting
*hiring a guy to make a logo for WebWhoreBucks.com so I can give the whole thing a facelift and a proud capitalist woman vibe
*use it all on massage and maybe exercise classes
I'm leaning towards massage (and maybe mental health care) because even though I *yearn* for those other things, taking care of my body fulfills my basic needs (and IS mental health care) better than those other things do which require follow-up effort to be truly useful. Buying massage is one of the few things I can do for myself that is really good for me, requires no effort on my part, and on top of all that is PLEASURABLE.
*****
Mildly put, I'm having a really difficult time today. A lot of it is hormonal/PMS, a lot of it is just the normal difficulty I have as an ADD person in prioritizing overwhelming sets of to-do's, but some of it is specific stress over a few different circumstances that I overall feel hopeful about, but have been emotionally exhausting. My emotional resources are tapped out and my brain's really loud and jumbly.
To make part of a long story short,
Delia's going Alcoholics Anonymous meetings now
and I'm going to Alanon. It's a huge relief to me and I feel really positive about it. I feel like a lot of weight and isolation is being lifted from me. Still, there are residual effects of the stress I've/we've accumulated getting to this point and being in a number of transitions; I've cried a lot more than usual in the past week, which is awesome in some ways but just really fucking exhausting.
On top of that, we continue to be plagued by problems with our neighbors. Fortunately, the guy got thrown back into jail yesterday so we'll have a bit of a break from him, but the woman is probably more of a menace to us than he is. And the daughter? I just feel so fucking bad for her that she's one of the pains that I cried over recently.
Our main ISP where we have a business account tightened its spam filters and pretty much blocked us from sending any email from or referencing our porn domains through their outgoing mail servers; they were very helpful, professional, and non-accusatory, but ultimately I had to spend a lot of time on the phone for a couple of days to find a solution and get it working again. That time-suck piled on top of others makes me feel totally burned-out, like I can't get ahead. I know that's not true, I'm just feeling that way this week. It hasn't all been bad, and most of the time I feel happy, but my mood swings are extreme and the lows are really pathetic. I tried to get ahold of my psychiatrist that I haven't seen in five years or so, but he hasn't returned my messages. It would be a big help to get back on Ritalin so I could at least concentrate and get some work done without being totally scatterbrained, distracted, and wanting to rip out my overactive, inefficient brain. Just being able to sit down and work without little sounds like frogs croaking (which should be PLEASANT!) driving me to insanity would be a really huge help.
I can't stand hearing people go on and on all the time about all their problems that they always seem to be having, so I just hope that if you're reading this that you have enough context for my complaining to know I'm not defeated or just a pitiful slug of depression with no hope for the future, I'm just in a bumpy spot. I know it's nowhere near what other people have to deal with, and I wouldn't trade in my problems for other people's, but that doesn't mean I can pretend everything's totally smooth sailing for me right now. It's not the big things that are bothering me today -- I feel pretty excited (in good ways) about the big things -- it's the little things that are wearing me down. Like my mom calling to say that even though Grandma appreciates my letters, she'd rather I called. And that making me feel like I was smothering in a lead blanket of guilt that I will never have enough energy, time or detachment to throw off (it's impossible to talk to my grandma without the first thing out of her mouth being a passive-aggressive guilt trip; I thought I was fulfilling more than I'm capable of just to talk to my MOM on the phone four times in two days but I'm supposed to interrupt work to do more? YES!!!).
Then there's the world-is-out-to-get-me crap where you think everything is being aligned to stymie your efforts, like the library being closed for staff training the one day of the month you go out of your way to visit it, or water aerobics being canceled this week (JUST *this* week, they say!) when you made what felt like a herculean effort to go to the pool for the first time in fifteen years specifically for that because you really fucking need the exercise. And you know the whole modern cult-of-magnetization thinks you brought this shit on yourself . . . there ARE no coincidences and the world isn't out to sabotage you, YOU ARE DOING IT YOURSELF, but I have to calm down and remember that's both notions are a total fucking crock of shit and I just have to keep trying in spite of being annoyed that both facilities' online schedules were totally misleading!
I made the best of both situations. I'm a fucking winner. And I know it will get better. Probably when my period starts. And my girlfriend is making me eggs and bacon right now to remind me that my life is charmed, sweet, and I'm not in this all by myself. I get taken care of.
Labels: attention deficit disorder, depression, drugs, emotions, money, mundane
Wednesday, May 02, 2007
Head Cleaner
HEAD CLEANER
After waiting half an hour yesterday for our internet connection to return in time for our shows
, it was time to shit or get off the pot; we decided to cancel and put our time to better use than repeatedly dialing the cable company.
We left our downed-connection at home and drove over forty miles (over 80 round) to the nearest Best Buy so we could get a MiniDV camcorder head cleaner; our videos have been coming out with some bizarre chirps and bleeps and wacky messy visual disturbances and it took me a few months to realize it's probably because the heads are dirty. I'm not so smart about those things. Too bad I just spent hours downloading six videos the other day and will have to redo at least some of them to reap the benefits of the newly cleaned heads.
Anyway, I hope the cleaned-up video for members will make up a bit for the lost show. I also scheduled
a make-up show for Friday evening
.
Speaking of head cleaner, my return to Ritalin has been treating me well. I do feel like I need to post a status report for voyeurs so they'll know when I'm medicated and when I'm not (because my behavior IS noticeably different) since I don't have enough of a stash right now to take it consistently and have no idea when I'll get an appointment with a doctor (I left a voicemail with my psychiatrist yesterday but then I pushed the wrong button and have no idea if I actually saved/sent the message) PLUS I have no intention of taking all three doses every single day. For one thing, a girl has got to eat; most of the time food is not very appealing when you're on stimulants. Just as an example, since yesterday was a special day (May Day, five year anniversary of my site, etc.) I wanted to fully enjoy good food and not have any of my natural tendencies repressed or subdued so I didn't take any pills.
The ability to take medication vacations is one of the things that I like about stimulants; they don't stay in your system very long (four hours for what I take), they don't take weeks or months to start working, you can take them as needed or not, and you're not going to have a total meltdown if you decide to go without them (though of course you will have all your ADD or ADHD symptoms come back, sometimes rebounding in an exaggerated way like a kid with a mild case of Tourettes who has managed to control most of her tics all day at school and then comes home and unloads a volley of pent-up energy; it's not the same thing, but is the only thing I can imagine that might feel similar except without the holding-it-in part since the meds take care of that without any conscious, painful effort).
My apologies to those of you making it through this entire entry but aren't really interested in this stuff. I would try to keep some of this to myself but it seems like there's a significant number of readers and members who find ADD and stimulant talk useful/interesting, and it definitely helps me to blog about it.
Bubblegum lovers: since dry mouth is a side effect of stimulant use I am counteracting that by chewing and blowing more than normal on my spycams.
Labels: announcements, attention deficit disorder, bubblegum, drugs, food, health, mundane, ritalin, shopping
Sunday, April 29, 2007
An Unusual Silence
AN UNUSUAL SILENCE
If you've been watching
my spycams
the past couple of days and noticed an unusual silence, it's because I decided to try Ritalin again. No loud, angry outbursts of swearing! Isn't that refreshing?
I'm still noisy in the fart arena, though. Yesterday I sat down at my desk and ripped the craziest-sounding fart with a squeaker on the end; I burst out laughing, it was so cute. THAT IS WHY WE HAVE AUDIO ON OUR SPYCAMS! Also, last night I posted
a short fart video
in the behind-the-scenes section of SpyOnUs. Here's a picture of me farting from my favorite gallery we shot last week: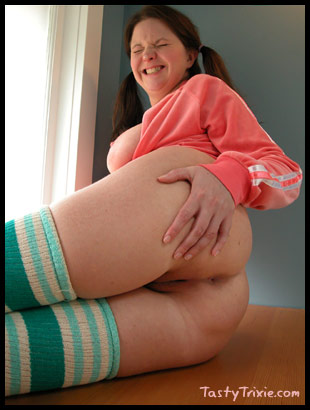 Full Gallery coming soon in my Members-Only area.
Join TastyTrixie.com or SpyOnUs.com for ALL of my long sock photos!
Anyway, I hope you don't miss seeing me ripping out my hair and hearing me throw conniption fits over stupid little things because while I'm dosed on speed I generally don't freak out like that.
Labels: announcements, attention deficit disorder, bodily functions, drugs, ritalin, spycams
Saturday, April 28, 2007
Books & Booze
BOOKS & BOOZE
I implemented a new budgetary device for
Tucker
and I; we're each getting a weekly allowance for our vices. I tend to spend money willy-nilly on books and magazines while he opts for wine and beer so we're going to have a new limit of a paltry $15 a week each from our shared money for our personal addictions and if we want to spend more on them it has to come out of our own camming or phone sex money.
What does this mean for you? It means I might have to start camming and doing phone sex a whole lot more because I LOVE TO BUY BOOKS.
Labels: books, drugs, money, mundane
Thursday, February 08, 2007
Drugs: Part I
DRUGS: Part I
The topic of drugs came up while I was talking to Ron and my wanker the other night. It was one of the main reasons I muted the spycam audio; I don't want people to get the wrong idea about me and drugs, so I don't want them to hear me speaking about them in a casual way.
While I'm all for decriminalization of some drugs and drug activities, and all for legalizing marijuana, I'm pretty straight myself and relatively inexperienced with most mind-altering substances. I also tend to be fairly judgemental (compared to other liberal folks) of other people's drug use (including caffeine and alcohol) so I worry that other similarly judgemental people will get a bad impression of me if I openly discuss my RARE drug use or dreamily describe my drugs of choice. I would just hate for that to be a surfer's or member's first impression of me.
How nervous am I about coming across as a drug-addled loser? Nervous enough that when I take totally innocent pills on cam I'm paranoid our voyeurs imagine I'm using schedule I drugs for fun. Nervous enough that when I brainstormed a list of labels/categories for this blog I hesitated to make a "drug" label. Nervous enough that I wanted to make this entry, sort of the definitive "Trixie on Drugs: it's not what you think!" post. So here you go:
PILLS I TAKE ON A REGULAR BASIS:
Vitamin B Complex
I usually take this in the morning with my tea and it is a LIFESAVER for my brain, my chapped lips, and who knows what else.
Birth Control
I usually take this at night. It's so I don't get pregnant AND to regulate my hormones so I don't alternate between wanting to kill other people and wanting to kill myself.
Naproxen Sodium
If I have any aches or pains, this anti-inflammatory is what I take. It's my preferred over-the-counter fixit pill (I'm not a tylenol or ibuprofen gal). My loyalty to this particular med started when I was in junior high and I could only get it as Anaprox with a prescription. I took the double-strength variety. Once when I was eighteen or nineteen and suffering from terrible cramps I actually had to go to the doctor during a bad bout with them and I got scolded for admitting to taking more than the recommended dosage. Then he prescribed some other painkiller to me. Thanks, GP! Anyway, the OTC stuff seems to be enough for me these days.
I'll also take some Aleve sometimes if I've gotten some exercise and feel sore. My sister tells me I'm ruining the whole muscle-building effects of exercise by doing that, but I honestly don't care. Feeling pain ruins the positive effects of exercise for me, so there. I do avoid going hog wild with Naproxen Sodium because it's hard on your stomach. I don't worry too much about the other side effects (increased blood pressure) since I have really low bp.
PILLS I USED TO TAKE ON A REGULAR BASIS:
Ritalin
I am SO GLAD I tried it! I'll try not to make this a big entry on Attention Deficit Disorder, but just say that while therapy and my eventual ADD diagnosis in my mid-twenties gave me a whole new (and mostly-positive) perspective on myself, trying Ritalin taught me what being normal could feel like. I took my first dose under super-controlled circumstances (at home alone with no distractions, on vacation) so I could observe myself and my reactions, and when the speed kicked in my first overwhelming observation was that THE FLOOR STOPPED MOVING. The jangled blur of chaos I was used to was stilled.
It was an almost-perfect duplication of the time someone at my data-entry job pressed some mini-thins on me when I was sleepy (back when mini-thins were just pure ephedrine) and I was elated to discover that I could alternate my gaze from the monitor to the data on my copy-stand WITHOUT SEEING ANYTHING BUT THOSE TWO AREAS OF FOCUS. I could look back and forth without anything else distracting me! Miraculous!
On Ritalin I could play piano and actually HEAR myself for WHOLE ENTIRE SONGS rather than plunking along and, three measures into a piece, be immersed in daydreams and consuming trains of thought that blocked out concentration and made practice completely futile except as something to do with my hands while, you know, daydreaming. On Ritalin I actually got BETTER as I practiced instead of getting worse.
On Ritalin when someone was talking to me, I actually heard them for the whole conversation. Someone could even tap me or start talking behind me and I would barely even register the feeling or sound; I remained totally focused on the primary conversation and I DIDN'T EVEN *WANT* TO INTERRUPT THEM.
On Ritalin, if I was trying to find something (my keys in my full backpack, for example) I would FIND them straight away instead of forgetting what I was doing and finally pulling out some random object hoping it would jog my memory or just so people near me wouldn't think I was batty, rummaging aimlessly in my backpack for ten minutes. On Ritalin, when I walked into another room to get something I wouldn't find myself in that room (or some other room) wondering what in the fuck I was doing there a mere 15 seconds after I began my task.
On Ritalin, I experienced blissful sleep. I'd set my alarm for an hour before I wanted to wake up, take my first pill of the day, and fall back into the most amazingly restful sleep EVER. It didn't last long (25-45 minutes), but it was fucking fantastic and made getting up pleasurable instead of a cranky nightmare. I would also dose myself before I'd get a massage and those massages were the most blissed-out, relaxing, meditative, beautiful things EVER. Sometimes I fell asleep. It was these experiences of relaxation that convinced me that ADD and speed's paradoxical effects on people with ADD/ADHD were real. Or at least real enough to be of significant use to me.
On the flip side of all of the positive effects (too many to list here), I did experience pretty bad rebound at the end of the evening when my last dose wore off. I would start freaking out, getting really explosively hair-rippingly angry, sensitive and frustrated, without realizing what was going on until my husband would look at me and tell me to go to bed, that my pill wore off.
At work I also got negative feedback from friends who said I was acting like a zombie, I was boring, etc. I also developed a really bizarre compulsion to whisper instead of speaking normally (I think that was the only side effect or symptom I described to my psychiatrist that he'd never heard of in connection with stimulant use -- in fact, he didn't seem to have ever heard of that compulsion at all).
I'd also lost quite a few pounds during therapy (before I was prescribed Ritalin) simply because I felt happier, so when I started taking the Ritalin I wound up losing more on top of that (no way around its appetite-suppressing effect). I don't know how much I weighed then -- maybe 103 (a good healthy weight for me in spite of it sounding underweight because of those retarded BMI charts). Then my dad got really sick and almost died a few months later.
While he was hospitalized and then transitioning to possibly dying at home, I eventually realized I had to stop taking the Ritalin since the combination of it and major stress (and not having TIME to eat much) pretty much destroyed my appetite and I sunk down to around 93 pounds, if I remember correctly. At the end of my first full day back at work I couldn't figure out why my ass hurt until I realized it was because I HAD NO FAT LEFT ON IT.
That was the end of my love affair with Ritalin.
This is getting way too long so I'll post Drugs: Part II later.
Labels: attention deficit disorder, drugs, health, therapy, values, voyeurism