HOT FOR BUBBLES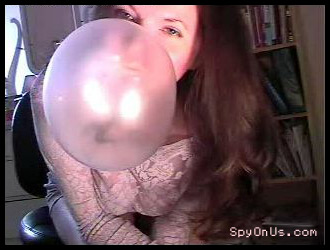 See my shows & bubbles by joining TastyTrixie.com or SpyOnUs.com.
My nascent bubblegum fetish is getting bigger and
bigger
and BIGGER. I can't resist integrating it into my group webcam shows (as in the above image snagged by DavieUK during one of my Monday shows) and I'm beginning to crave it during (non-recorded) sex.
After my late show on Monday my g-spot was still craving action so I lured
Tucker
into the bedroom and climbed on top of him to rub my long-socked legs all over him. I suddenly felt like if I had some gum to chew and blow everything would be PERFECT. And then I got an urge to not only wear long socks and blow bubbles while fucking, but also to slap Tucker silly. Alas, he said he would need to be tanked to endure a slap-session and because I'd already combined in my head the gum-chewing/blowing with the face-slapping I didn't even bother getting off Tucker to go into my office for gum. Instead we had a loud and heated session of "regular" sex including some doggy-style after my orgasm. I have never had an orgasm while being fucked from behind (except with the aid of a vibrator) so even though I enjoy it and experience pleasure from it, we usually don't do it that way unless we're in extended-play mode. Unfortunately no one sent me a screen capture from that session, but I imagine those watching were too busy with other things to be copying and pasting screen grabs.
As some of you've heard already, we're going to start an ongoing contest with monthly winners for voyeurs who submit screen caps. The only reason I keep procrastinating on starting and announcing it is I feel like I need to write some tutorials for those who don't already know how to do the print screen thing. I also have some software to recommend for people to be able to automate the process and even capture video with audio. I'm sure some fellow webwhores will think it's totally irresponsible of me to teach viewers how to archive our live performances and spycam moments, but I don't really have a problem with it as long as they don't try to resell them or post scads of them on message boards, etc. I actually feel like it's totally taking advantage of members to get them to record content and then send it to me so I can use it to make money. Seems like a fair trade to me when it boils down to it.
*****
I'll be posting more bubblegum and long sock content to
my members area
today so if you're not sick of my bubblegum obsession, you'll be pleased.
FYI: the bubble in the above pic was blown with four or five pieces of Bazooka.
Labels: announcements, bubblegum, fetishes, long socks, SEX, spycams, webcam shows, webwhore insights
HEAD CLEANER
After waiting half an hour yesterday for our internet connection to return in time for our shows
, it was time to shit or get off the pot; we decided to cancel and put our time to better use than repeatedly dialing the cable company.
We left our downed-connection at home and drove over forty miles (over 80 round) to the nearest Best Buy so we could get a MiniDV camcorder head cleaner; our videos have been coming out with some bizarre chirps and bleeps and wacky messy visual disturbances and it took me a few months to realize it's probably because the heads are dirty. I'm not so smart about those things. Too bad I just spent hours downloading six videos the other day and will have to redo at least some of them to reap the benefits of the newly cleaned heads.
Anyway, I hope the cleaned-up video for members will make up a bit for the lost show. I also scheduled
a make-up show for Friday evening
.
Speaking of head cleaner, my return to Ritalin has been treating me well. I do feel like I need to post a status report for voyeurs so they'll know when I'm medicated and when I'm not (because my behavior IS noticeably different) since I don't have enough of a stash right now to take it consistently and have no idea when I'll get an appointment with a doctor (I left a voicemail with my psychiatrist yesterday but then I pushed the wrong button and have no idea if I actually saved/sent the message) PLUS I have no intention of taking all three doses every single day. For one thing, a girl has got to eat; most of the time food is not very appealing when you're on stimulants. Just as an example, since yesterday was a special day (May Day, five year anniversary of my site, etc.) I wanted to fully enjoy good food and not have any of my natural tendencies repressed or subdued so I didn't take any pills.
The ability to take medication vacations is one of the things that I like about stimulants; they don't stay in your system very long (four hours for what I take), they don't take weeks or months to start working, you can take them as needed or not, and you're not going to have a total meltdown if you decide to go without them (though of course you will have all your ADD or ADHD symptoms come back, sometimes rebounding in an exaggerated way like a kid with a mild case of Tourettes who has managed to control most of her tics all day at school and then comes home and unloads a volley of pent-up energy; it's not the same thing, but is the only thing I can imagine that might feel similar except without the holding-it-in part since the meds take care of that without any conscious, painful effort).
My apologies to those of you making it through this entire entry but aren't really interested in this stuff. I would try to keep some of this to myself but it seems like there's a significant number of readers and members who find ADD and stimulant talk useful/interesting, and it definitely helps me to blog about it.
Bubblegum lovers: since dry mouth is a side effect of stimulant use I am counteracting that by chewing and blowing more than normal on my spycams.
Labels: announcements, attention deficit disorder, bubblegum, drugs, food, health, mundane, ritalin, shopping
HUBBA BUBBA
I'm developing a bit of a bubblegum fetish (both chewing and blowing), as some of you may have noticed.

Full Gallery appearing now in my Members-Only area .
Join TastyTrixie.com or SpyOnUs.com to see all of my gummy adventures!
I'm now in the process of researching the best brands of bubblegum and have determined that of the three most commonly available brands, Hubba Bubba is THE BEST. I've got a load of special-order Dubble Bubble and Bazooka on the way, too, but it's really nice to know that Hubba Bubba does the TRICK. Bizarrely enough, I had a horrid headache all day yesterday but once I popped some gum in my mouth and started chewing, the pain melted away. It may be that my Aleve just happened to kick in at that time, but maybe it was the sugar rush of the gum.
*****
My big task for the evening is to answer a bunch of emails. As time goes on I get worse and worse about responding to email within a polite period of time. The main reason I procrastinate on it is I'm afraid my brain and social skills aren't up to the challenge and have come to believe that I need hours to write appropriate responses to email. I've become quite phobic about email and feel genuinely overwhelmed by it. Aside from the obvious consequence of appearing totally rude to people who've been kind to me (the majority of email I get is nice) I've also fucked up good opportunities for publicity because I turned the requests for information in the emails into giant complicated tasks that I came to believe were far too large for me to manage. I know it sounds totally crazy, and it really IS totally crazy; there's no denying it. As I get older, though, I become more and more aware of my own limitations (or maybe I impose limitations on myself because I'm lazy -- that's possible) and sometimes I know I just don't have it in me to run our sites each day AND give people personal attention via email in a kind or coherent manner.
While I know it's reasonable to accept that I can't do it ALL, it's also reasonable to recognize that I can do MORE. For example, when a certain UK television producer writes to me (and I do manage to write back) and then he writes back again asking for "any details about how, why and when you got into doing what you do" so they can put together a list of potential interviewees and I FAIL TO RESPOND it's kind of crazy. My avoidance script goes like this:
Would sending him a list of links to pages on my sites that answer those questions be good enough? Or no, would that look lazy or disinterested? But then what is the perfect short, readable, quotable blurb to provide? Should I mention that I've already worked with people from his organization? Or would that seem pompous? Would attaching a photo of me with said people be too much? Would that make me a less-interesting subject since I've already appeared in one of their productions? Or does he already KNOW about that and that's the reason he contacted me so mentioning it would only sound stupid? What should I say to get Tucker in on this (if anything)? Or should I check with Tucker first since maybe he doesn't want any more UK exposure that his British grandma might see? Is the TV guy only aware of my bloody site and if so, should I answer the questions within the framework of BloodyTrixie.com only or should I convolute the whole thing by talking about all of our sites? Should I provide a username and password to our members-only areas or would that be shooting myself in the foot or maybe pressuring him to spend time researching me that he doesn't have or need to invest?
I think I need a therapist's help in figuring out why I'm sabotaging myself and how to knock it off. I mean, I can think of a hundred reasons why but I'd like a professional to slice through the bullshit 97 of them for me to get to the top three and massage away the problem. When someone with a website, for example, writes to me saying, "I'd like to do a story on you" it would be nice if I didn't ignore them, you know?
On top of all of that, I have a nasty habit of sabotaging friendships. The scary part is that I often feel RELIEVED when I've ruined a friendship. It feels almost like it might feel to have my email inbox suddenly emptied with no memory left in my brain of the requests people have made for me to respond. No more worrying about how I will fuck up or how I have fucked up because I finally DID fuck up! No more agonizing over how to word things in a polite fashion or pretend to be sensitive and thoughtful. No more pressure to get together to make sure someone knows I like them. No more trying to hide that I am an asshole who would rather be in bed shoving thickly-frosted cake and assorted salty carbs into my mouth while watching really stupid television shows than SOCIALIZING or NETWORKING.
Oh well. I'm both complicating things in this blog entry *and* oversimplifying them, so I'm removing the comment option for this post. Or wait, I better not do that because someone might have something important to say about BUBBLEGUM. So yeah -- comments welcome on gum and fetishes, but please -- no advice or words of wisdom on the other stuff. Personal stories of your own are welcome, but I'd rather not hear any analysis of my own issues which I've not fully fleshed-out here. It's not a cry for help, it's just a chunk of sharing and reflection and couldn't possibly relay enough information for anyone to respond with meaningful advice.
Note: I have been in therapy before, I love it, would love to get into it again with a local psychologist and would without hesitation if not for money issues.
Labels: bubblegum, fetishes, PHOTOS