Sometimes I wonder how much time other amateurs spend putting together galleries for their updates. I suspect that I waste more time than most doing very silly things that other people automate. For example, I relish picking out a font for my domain name that will fit the mood of the photos. Then I waste a bunch of time placing my domain name image onto an appropriate spot on the photo that won't cover anything up. I enjoy seeing the way the colors and the shadows and everything compliment each other. It's ridiculous how much time I spend on these little tasks. But I like it.
Another thing I wonder about is the interplay between vanity, porn standards, market demand, individual fetishes, reality, legacy-building and "art". I find myself sorting through hundreds of pictures of myself trying to pick through them and create an enjoyable gallery for members. It's HARD though. All of these conflicting demands vie for my attention. First of all, I myself have a short attention span so I don't really like looking at galleries of more than 25-30 pictures. I find it very repetitive and boring and wind up really not relishing a few really sexy images -- it's almost as though as soon as I see allllllllllllllll those pictures I find myself aware of the clock and that I need to hurry up and scroll through them. Perhaps this is just a function of my femininity though? Maybe guys don't think that way. Plus most people in the internet porn industry slap together huge galleries of 75 or more pictures. But then again, lots of those galleries are built around girls who are flawless looking. Frankly I wind up with a very mixed bag of content. I have a few really flattering images (a VERY few), a lot of pictures that cater to individual fetishes (hairy, freckles, natural tits, etc.) that a lot of people withOUT those fetishes don't really find appealing, and a lot of images that are artistically interesting but antierotic.

Full Gallery appearing in my Members-Only area with Sunday 2/2 update
JOIN NOW for access!
When I look at pictures like the one above I'm just not sure what to do with it. It certainly doesn't depict me at my aesthetic BEST (see the chin fat, the exhausted expression, etc.) but it's an appealing image. I think it would be more appealing to me if I were looking at a stranger though instead of myself. And then there's the problem of it being on a "porn" site. Well . . . I don't really think most of the stuff in my members area is "porn". Although I love the porn title and feel it's important to commit myself to challenging the stereotypes associated with the word (and the only way to do that is to call what I do "porn") . . . really a lot of what I love making most is stuff that you would find shoved into a library book and accidentally left there. Seriously, that's what I imagine most of the words and images on my site are really meant for . . . to be discovered with no explanation and no context. Just intimate photographs and jotted notes for someone to discover and wonder about, unable to decide if the women they're looking at are ugly or beautiful, average or exotic, rare or commonplace, passive or aggressive. Unable to do more than imagine what the circumstances were surrounding the taking of the pictures or their lives in general.
I'd love to make a site (or *something*) like that and have fantasized about it before . . . something the captures the trespass of finding something that wasn't meant for you but that you long to keep and wish you understood better. The kind of thing you want to stick under your mattress or save in a shoebox. The only hard part about doing a site like that is that with guest content I wouldn't be able to give credit back to the models without destroying the mystery of the whole thing. MMmm. . . or maybe not. Maybe there could be little "unveil the mystery" links. And of course I could always pursue photography more and then I wouldn't be under any obligation to give the models any credit at all. Sigh. One of a million unpursued ideas I have . . .
Speaking of doing more photography, I put an ad in the local paper for naughty people to pose for me. And I have fantasized about approaching young girls like an old rotten-toothed pervert. My sister and I were in McDonalds a few weeks ago and the girl behind the counter was fucking angelic. She was plump and had the sweetest face. So far I haven't seen any barely-legal chubby girl sites (although I'm sure they're out there) -- the teen sites always seem to focus on the skinny underdeveloped set. But seriously, the baby fat look is just as provocative and sexy, I think. Anyway, I wondered if there was a way I could give this girl my card without totally scaring the shit out of her and having the law on my ass.
Anyway, back to my competing demands when putting together content for my site; somehow I feel like honoring those competing demands in a very inconsistent way that is my "special purpose" or comprises the personal "legacy" I am supposed to be building with my life. Although I feel conflicted about it sometimes and hypercritical of it, I LIKE that what I do is a mixed bag of all kinds of stuff: the thoughtful and the careless, the priceless and the cheap, the mainstream and the marginalized, the captivating and the repulsive, the dirty and the sweet, the pretty and the unpleasant, the hard and the soft, the forced and the natural, blah blah blah.
I don't think that most people understand that when a girl has pictures made of herself . . . it's not porn, it's immortality. It's the fountain of youth. It's enduring proof that she's a sex object in hard copy just like a girl in a magazine or Jesus's words in a red letter edition of the bible.
DOWNSTAIRS
It's really odd . . . houseboy is downstairs learning Premiere (Adobe video editing software) on the laptop while I'm upstairs working on galleries. We've exchanged a few emails this way (yes, we're in the same fucking house and we're emailing each other) and I find myself really enjoying it. I like being close but a little removed. Communicating without speaking.
Hahahaha! He just sent me an email telling me to quit slouching (he is checking on me on the spycams). Hehehe.
Labels: aging, amateur, art, beauty standards, immortality, modeling, photography, PHOTOS, PORNOGRAPHY, relationships, spycams, webwhore insights
I'm working on my weekly update and feeling conflicted about adding more really crappy pictures to my members area. I shouldn't feel badly about it because I'm an AMATEUR!!! Sheesh!!! Some of the pictures are actually pretty hot and fun if you ignore the red eye, belly folds, etc. It would be sad to just throw the pictures away simply because I find them humiliating. Amateur porn SHOULD have an element of humiliation in it, right? Every photo gallery can't be tres artistic, can it?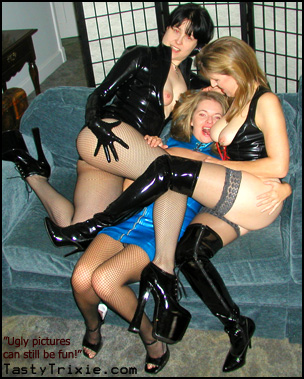 Full Gallery appearing in my Members-Only area with Sunday 1/5 update
JOIN NOW for access to all my ugly pictures!
Labels: amateur, latex, PHOTOS