Monday, June 22, 2009
Gooey Glasses Porn
From a video we shot awhile back but just posted recently: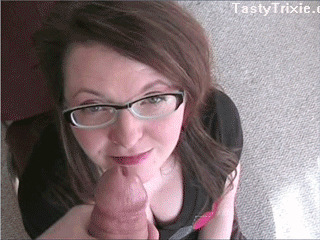 I don't do enough glasses porn so we shot that in part to try to remedy that. It's a shame I don't shoot more stuff while I'm wearing my spectacles since I have a really "sexy" strong prescription, if you're into that sort of thing:
right eye = -6.75 -1.00 x 135
left eye = -4.00 -2.75 x 156
The third number is for my astigmatism.
I also did a creepy voice-over/roleplay with myself for that video AND Delia threw her back out shooting that POV (point of view), so I want to make sure it's fully "appreciated" by nerd-lovers. Members can see it
here
. Non-members can
join
our sites to see it OR buy it on
our clips4sale store
(look for "Interview with a Nerd").
*****
Speaking of nerds, we finally saw Star Trek last night. Aside from it being an amazing, must-see-on-the-big-screen event, it totally had a Father's day theme AND there were only five other people in the theatre with us, and three of those people were mega-Trekkers. The dude looked exactly like
"Sex", the crazy guy whose mom brings him to try out for So You Think You Can Dance
every season. Only this guy made really awesome geeked-out joy noises in response to the movie and made the experience even more pleasurable and authentic than it would have otherwise been. I mean, we totally geeked out but this nerd-monkey NOISE that he made just epitomized what Star Trek fans are all about. And even with that few people in the seats, I *still* managed to get some fucker putting his feet up on our row of seats and shaking the shit out of me so, as usual, I had to have words with someone. PEOPLE. I love and loathe the shit out of them.
I think the last movie was saw in the theatre before this was
Twilight
so we're parched for big screen entertainment. I'd love to see Up and Terminator Salvation before it's too late.
Labels: fetishes, movies, PHOTOS, pop culture, PORNOGRAPHY, Star Trek, television
Wednesday, January 21, 2009
Post-Inauguration
We woke up early to watch the Inauguration yesterday; I turned the television on as fast as I could and pretty much started crying immediately. I'm a sucker in general for ritualized ceremonies, but a lot of things made it extremely emotional for me. There's all the obvious stuff of watching a momentous, proud, hopeful, inspiring piece of history, but other stuff, too. Like remembering watching Reagan's Inauguration with my grandpa when I was a little girl. Like seeing two little girls who love their dad and thinking of my own dad and my sister and I when we were their ages. Seeing the former presidents and vice presidents and first ladies from my lifetime walking (or hobbling) in or not being there at all (like my dad and my grandpa) was like looking at a timeline with my own lifespan clearly marked on it. It's not a long line, even if I'm lucky and only a third of the way through it. I didn't think of it this way on a conscious level until hours later and realize that part of what I cried about was my own mortality.
*****
Then I had a doctor appointment. That made me feel even more like a rusting machine getting ready to be dismissed from operation. It wasn't a good experience and by the end of last night with money stress, the emotions of the morning, sleep deprivation and all of the symptoms I went to the doctor for in the first place, I was really ready for a good night's sleep and too wound up to jump right into it.
*****
Check out
my Inauguration Day tweets
if you want some more of my reactions to yesterday. Apparently I'm the only person who loved the poem. Other people thought it was robotic -- not a word I'd have chosen to describe it, but even if it was I totally love robots so maybe that's why I liked it. At first I thought her delivery was too contrived, but a few lines into it I just heard the words/saw the moments she captured and thought it was fucking brilliant and spot-on. I burst into tears when she said the last nine words of this chunk:
Say it plain, that many have died for this day. Sing the names of the dead who brought us here, who laid the train tracks, raised the bridges, picked the cotton and the lettuce, built brick by brick the glittering edifices they would then keep clean and work inside of.
I complained yesterday about not hearing anyone comment on the poem (and felt totally annoyed seeing people walking away from the ceremony before she even started; these must be the same assholes who go to watch fireworks displays but leave before the finale because they want to "beat the traffic" but maybe I'm being unkind and they all just have small bladders and/or diarrhea) but now I'm glad I didn't hear any chatter about it on CNN or online (I know
it's out there
, I just haven't looked for it or read it). I don't know anything about poetry, but I do know I love Walt Whitman and I do know he loved Lincoln and I do recognize nods to Whitman in yesterday's poem and that all of that fits into the deliciously morbid Lincoln-channeling going on with Obama being the first to use the Lincoln bible and doing all of those other following-in-Lincoln's-footsteps black-cat-crossing things.
*****
We spent most of today shopping since we had to make the journey to suburbia for Delia's laser hair removal appointment. It was so much fun hearing people, especially kids, talking about Obama (kid pointing at books & magazines: "look, Mom! It's Barack Obama!"). I hate that I can't shake the feeling of impending doom, though. I know other people have to be feeling it, too. Still, everything's shimmery and sparkly right now . . . very storybook-like (even with the oath do-over). Watching the ceremony yesterday I did halfway feel like I was watching a pre-pre-pre-prequel to Star Trek Next Gen. Like everything good could really come true someday and all of the buildings and monuments were bad backdrop paintings of futuristic architecture.
I don't regularly fantasize about the White House as a super-glamorous place and never have felt like the people living there were royalty the way people felt about the Kennedy years. It's kind of exciting to experience that now; I can't help it, thinking about those girls moving in there and having slumber parties. I'm totally sucked into it. The allure of a lot of chick things (weddings) escapes me but stories involving orphans, boarding school, or preteen girls spending the night in museums or moving into the White House are always going to capture my imagination. It's almost as good as eating buckets of mashed potatoes and gravy, imagining Sasha and Malia safe and happy, the most famous little girls in the world ensconced in THE WHITE HOUSE with closets full of pink clothes and barbies and books and halls to run in and a prissy nanny who tells them stories and feeds them cucumber sandwiches.
*****
I've got some Obama-themed pictures to post from my latest members-only gallery but haven't had a chance to make promos so it'll have to wait. In the meantime you can
check out Delia's samples
if you're not a
member
.
*****
Another sad thought I had yesterday was for
our friend whose mom just died
. I imagined him and AmberLily dealing with their loss and this Inauguration going on at the same time. How weird it would be to feel like everyone in the world is paying attention to this ceremony while they're distanced from it by having a huge personal transition and ceremonies of their own to attend to. When big events coincide with personal crises it can be so isolating and bizarre. I haven't wanted to call them, but I'm definitely thinking of them and hoping for the best for them.
Labels: aging, art, celebrity, emotions, family, memories, politics, pop culture, Star Trek, television
Wednesday, October 08, 2008
No Clear Winner
I'm glad there's still no clear winner from yesterday's
pick-me-a-blog-topic
post because I don't have enough time to blog or masturbate or do anything enjoyable except snatch some tv while we're eating as therapy to recover from the stress of . . . not having enough time/having time sucked up by STUPID stuff. Uncreative, unsexy, uninspiring, frustrating, lame-ass, stupid stuff.
Specifically? Too many hours spent over three (not consecutive, phew!) days replacing our router. Summing it up in one sentence like that hardly seems fair to me and only makes ME look stupid. Like only a dumb fuck could lose days of work on what sounds like such a simple little task. But it wasn't simple (and even when it was, it was still excruciatingly time and money-consuming) and was connected to many other things. Being a camgirl/pornographer? So not fucking glamorous most of the time. And it's not just me: pretty much all of my fellow camgirl/pornographer friends are constantly battling the same obnoxious tech shit that interrupts the fun parts of our jobs and makes us all want to just go bathe in gravy-covered carbs. Tech problems are the ultimate turn-off.
Sometimes when my eyeballs feel like they're about to pop out of my head from the force of my frustration and I start hyperventilating and looking around for things to throw out the window (or AT the window while it's still closed so they'll both make satisfyingly loud shattering sounds), I try to calm down by asking myself, "what would I do if I were an Officer on the
Starship Enterprise
? I certainly wouldn't behave like this, even if WebWhore Headquarters were about to blow up in forty-five seconds!" Patience! Faith in one's own problem-solving abilities! Barely a sense of urgency: just a confident, one-step-at-a-time pursuit of a solution with nary a raise in my heart rate.
So far this technique hasn't worked for me. But maybe someday it will; it's dorky enough that it might do the trick when nothing else can. Or maybe I just shouldn't skip my Ritalin.
*****
Tomorrow night we're going to *try* to trek to
Ron's
to do some shooting for
IMakePorno
. Hopefully I'll have gotten most of my "asshole" out of my system today, part of my tax return done (I *have* to get that done, like, yesterday), my hair colored (it's the color of faded, sun-dried feces from a malnourished cat right now) and have time to pack and plan before we get there.
I am a Starfleet Officer, though. I can do anything.
Actually, I'm like an unholy (and super-irritating) union between
Barclay
,
O'Brien
(cranky DS9, O'B) and
Quark
. Sprinkled with the annoyingly pompous, bossy, hypercritical, controlling, buttinsky loudness of
Kira
and
Riker
.
Yes, you *should* feel sorry for my friends and family.
Labels: anxiety, blogging, inspiration, money, mundane, pop culture, Star Trek, technical, television, TURN-OFFS, work
Wednesday, April 26, 2006
Two Things You Didn't Know About Trixie
TWO THINGS YOU DIDN'T KNOW ABOUT TRIXIE
A couple of things you might not know about me:
1. I don't like those blue m&m's. I liked the old seventies colors. Red looked so pretty with the two colors of brown. Blue is ALL WRONG.
2. I believe that space colonization will save humankind -- that ONLY space colonization CAN save us. It's not something I think about often so it's not like I'm revealing some bizarre secret of mine. Or wait, maybe I am. This is something I've believed for a long time, maybe because the space station was such a big deal when I was a kid. Still, it wasn't something I had any detailed exposure to -- it just slid into my belief system.
Why does this nugget of belief appeal to me? I don't know -- probably because science barely-fiction captured my imagination somehow from an early age. I'm not very literate in the sci-fi genre in general, but my dad bought enough graphic sci-fi stuff (a huge Buck Rogers collection in giant-book form which I never read, but leafed through every so often, a couple of captivating books with spaceship blueprints, and a subscription to Omni) that it wiggled into my consciousness as something real. Star Wars was the first movie I remember seeing, and that in a drive-in theater with my dad after a fight with my mom so it made a big impression on me. I didn't study or immerse myself in science, science fiction, or technology but I saw and read enough that was so beautiful, believable, provocative and richly detailed that it planted seeds in my brain.
Maybe that's why I didn't like Star Trek: not very beautiful, believable, or richly detailed. My first exposure to Star Trek was the original series during reruns and I was too little to understand its provocative content, only to recognize its visual inferiority to Star Wars and the other pictures I saw. The only thing I liked about the original series were the short dresses on the hot chicks. Of course, in the past couple of years I've become a Next Gen fan but it didn't contribute to the formation of my belief system, only reinforced it.
I think space colonization is part of my faith; I have faith that a few smart, persistent, creative people will save us and we will endure thanks to scientists and technology. When I say "we" I don't mean "I" since I believe this will happen after I'm dead and gone, but not by much. The idea of space colonization comforts me even though it's completely irrelevant to my life and even though it will be fraught with tragedies and scary things.
I suppose I like knowing that the struggle will go on and that there are new frontiers to explore. Or maybe it comforts me to imagine that people in general won't become too much more advanced than I had a chance to be any time soon. I can't believe
Firefly
only lasted one motherfucking season because that show perfectly captured what I think a lot of us imagine as the not-so-distant future of humankind.
Honestly, I don't spend a lot of time specifically thinking about space colonization as a cornerstone of my belief system. I have, however, spent quite a bit of time over the past few years reflecting on science fiction in general as the best contemporary vehicle for exploring spiritual, moral, and ethical issues. Science fiction is one of the most authentic ways I feel like I can "get religion". It's not fixed or as dogmatic as science itself so there is still room for faith (and when I say "faith" I mean faith in something -- ANYTHING -- wiggly and uncertain, not faith in any of the gods of religions we're so familiar with today), and it's not completely insane or irrational (again, like so many of the religions we're familiar with today). There's room for soaring idealism in science fiction, and for bitter cynical social commentary. I love it.
Anyway, even though I don't give daily deep thought to space colonization, I guess I do feel pretty anxious about this planet and sad about what we're doing to it. The amount of destruction I've seen in my short life, and the carelessness people have towards the "environment" leads me to believe (another part of my faith) that we aren't going to be able to live here naturally much longer without lots of artificial intervention. Much of what is most beautiful will be utterly fucking destroyed -- any of it that's saved will be via small-scale Jurassic Park type measures.
I didn't grow up in a city. Many days I actually got to wade in creeks, see big trees, smell clean air, enjoy darkness at night, have complete privacy/solitude . . . things like that. I've spent all of my thirty three years loving ferns and moss and the smell of rotting wood.
I didn't grow up in a city, but I grew up close enough to the city of Seattle to see major MAJOR changes in western Washington every single year for the past thirty-three. It's nothing against cities, because I love those too, but we are mowing good things down and paving over it so fast and furiously and on such grand scale that you have to have your head stuffed straight up your cornucopian ass to not recognize that we're shitting all over the planet; it cannot sustain these levels of "growth" and resource-rape. I wasn't raised to be an "environmentalist"; my grandpa was a logger and most people I knew were pretty conservative and hostile towards "tree-huggers". Really, my sentiments are fueled only by the gift of sight -- you have to be fucking blind to not see the destruction and life out of balance.
So. I guess I comfort myself with the fact that science will create new wonders, preserve and transplant some old ones, and life will go on. It really breaks my heart, though, imagining the world introduced to my nephew (or my own children if I ever have any) and trying to show them as many things as possible before they're bulldozed down. If my own lifetime has been marred by observable decimation of natural resources and beauty I can only imagine how depressingly ugly and destructive the world will become over the next three generations. And hey, it's not all about "nature" -- privacy and solitude are becoming relics of the past (or at least luxuries only the very richest of the rich can afford). If I ever have grandchildren I'm pretty certain their notion of these concepts (privacy and solitude) will be reduced to tiny fragments of what they should be.
It makes me fucking shudder, but I thank my lucky fucking stars to be alive in this time and place rather than somewhere else, or sometime long ago, or sometime in the near future. That brings me back to faith; who or what should I "thank"? Science fiction hasn't answered that question for me yet so sometimes I fall back on the old-fashioned stuff because really, I do need to give thanks even if it's primitive, superstitious and nonsensical.
Labels: fears, food, memories, nature, Pacific Northwest, privacy, religion, spiritual issues, Star Trek, television, things I treasure