POST-SHOOT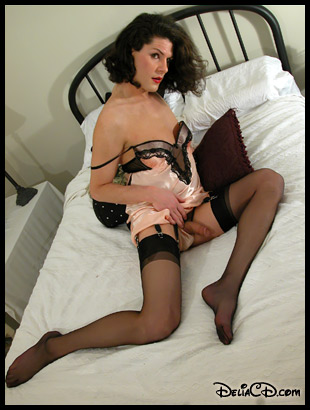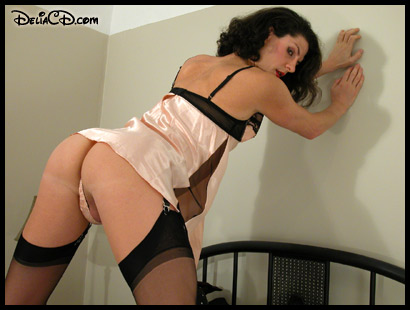 Right now is one of those moments when I am IN LOVE with my job, my boyfriend, my life and even myself. Pictures like these ones give me an idea of just how good things are and could be with a little more effort. It all seemed wonderfully synchronous to wind up with such retro sets right while I was reading James Ellroy and my mom's house always turns out great light and ambiance.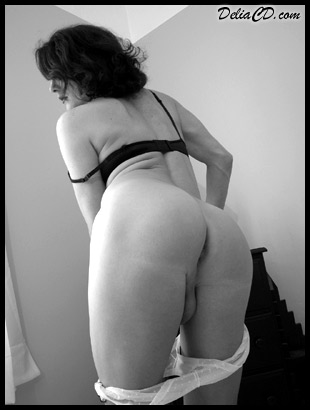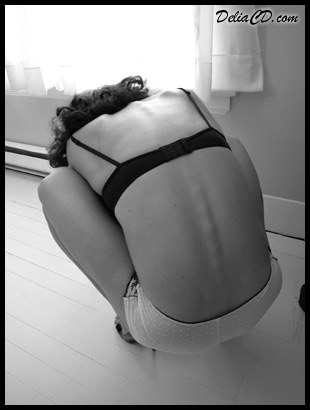 Full Galleries appearing soon in Delia's Members-Only area.
Join DeliaCD.com or SpyOnUs.com for access to ALL of her photos!
I know Delia probably won't be as excited about the black and white set as I am because of the harsher less-feminine lines and shadows, but as far as interesting PHOTOS go they are so much fun to look at. Of course, I wind up criticizing the baseboard heater and radios in the background that are from later eras. I always wonder what it would be like to shoot for a couple of hours and only try to get between one and ten really GREAT photos instead of trying to get 75-150 pics designed to lead to a thorough jack-off fantasy. I suppose we could find out, but I'm not really that curious to work it into our schedule.
What I'm more curious about is how cool it would be to invest in a fixer-upper without having any financial pressure to actually fix it up fast; the idea of having an older home that's kind of trashed out with texture to shoot in really appeals to me. Being able to do messy paintjobs and wacky shit without worrying about "ruining" the house would rock. I suppose first we have to be able to afford a house we can actually LIVE in, though.
Labels: beauty standards, gender issues, goals, James Ellroy, money, photography, PHOTOS, PORNOGRAPHY, webwhore insights, work
"BEST COCK" AWARD & JAMES ELLROY
Oooh, my boy/girlfriend,
Delia, is this week's "Best Cock" and "Horniest" viewer-awards winner on iFriends
.
Eat your hearts out!
*****
While Delia is webwhoring today/tonight, I'm driving her crazy with cam issues and complaining that she's not in the spycam chat. I'm sure she loves that. When I'm not busy doing that, I've been working on other stuff, eating,
DDRing
, and READING.
An engrossing book, finally! I was trying to take a break from true crime, but this true story of James Ellroy's mother's murder beckoned to me:
My Dark Places
. Yeah, the guy who wrote
L.A. Confidential
and
The Black Dahlia
, neither of which I've read (but did digest in movie form).
Having just opened the book today, I'm not too far into it yet but as a woman and sex worker (and true crime story hobbyist) I'm intrigued by the perspective of a boy who lost his mother in a brutal sex crime and then became a man making his living creating popular entertainment out of stories of -- you know --
brutal sex crimes
. I suppose it's nothing new, these stories told by men of raped and murdered women, but Ellroy is a good storyteller and this particular story is incredibly personal so it's fascinating the way he starts out with such a depersonalized narrative maintaining a giant distance between his adult self, the little boy he was at the time, and his mother. I can't wait to see how it progresses.
You know how people like to point at sex workers and label them damaged goods, drawn into the sordid skin trade never by choice but always by some history of past and present victimhood? Yeah, you know what I'm talking about. We do our jobs because we were sexually abused or because we've been brainwashed by pop culture into thinking we're only valuable as sex objects, blah blah blah. And we need to be
rescued
.
You don't hear people saying that about the James Ellroys or the cops, though, do you? Because men are not victims, they are HEROES. They turn it around and do something PRODUCTIVE with their lives, right? But sex work . . . THAT'S not productive. No, but if I were to write books with pictures of dead swollen-headed mommies that would be okay -- not damaged at all!
Talented . . . rich . . . respected and admired.
You can respectably write stories which are made into movies featuring mutilated skin-flick actresses and you don't have women trying to adopt you out of your life of crime and rehabilitate you into a humble-but-DECENT job (ex. flipping burgers at McDonalds, helping at a daycare in an inner city, or maybe teaching if you're smart enough) the way they would if you were a sex worker. Funny how that works, eh?
*****
Some sex-worker linkage:
*
Sex Workers Make Art (and raise money from dildo craftiness)
*
FurryGirl
is going to be on Night Calls! I don't have an actual link to it, but here's a quote from her members-only area:
I've been invited to be a call-in guest on "I've been invited to be a call-in guest on Playboy Radio's Night Calls with Ginger Lynn and Christy Canyon. (If you have Sirius satellite radio, I hope you'll be able to tune in!) They'd like to talk to me about Veg Porn and the Veg Sex Shop for Earth Day, which is Friday the 20th. It's really cool to get that level of media attention for my sites, and I'm excited about it.
Follow-up analysis:
See, for some reason I can't imagine anyone thinking that these people would be healthier or more productive if they were writing books about savage woman-killings instead of making porn. It just doesn't make sense to me.
Labels: accomplishments, body parts, books, James Ellroy, movies, pop culture, relationships, SEX, sociopolitical commentary, true crime, webcam shows, worse than porn