The Fourth of July isn't my absolute favorite holiday, but I do enjoy it a lot -- especially small town fireworks displays like ours. We also bought a small tabletop propane grill today to celebrate the American way with cheeseburgers and replace our rusted out charcoal grill.
In keeping with a celebration of our great capitalist country:
I hate to break it to those of you who read my blog through
a feed reader
, but you'll have to click through now and actually VISIT my blog to read my posts from start to finish (if you want to). I actually set my feed settings years ago BEFORE I actually started reading other people's blogs through a feed reader myself so until recently I didn't realize how unlikely it is for anyone to see my blog presented in all of its obnoxious glory when they can have it generically spoon fed to them through a reader.
I totally understand how much easier on the eyes it is to read through a feed reader but other than that, it's not very hard to click through to the original post and see it presented with the personality of the blogger who wrote it (me, in this case). After about a year of using a feed reader (I use
Google Reader
) to keep up with my favorite blogs I've noticed I feel more detached from the people who write them. It's like swallowing food without chewing it -- just gulping it down. I also don't like that some elements in my posts aren't properly displayed, if they're displayed at all (example: flash or video elements).
On top of that, my blog doesn't make as much money as it used to before the rise in popularity of feedreaders. Of course there are a number of reasons for that, but the fact that more people are reading me while fewer people are seeing advertisements for my sites and other sites I promote PROBABLY plays a pretty big part. I have never been one of those people who feels the need to apologize for wanting my work on the web to make some money so I'm not going to start now, especially since I think most of my selling is pretty soft/laid-back. I don't shove advertisements down readers' throats constantly, but I am also not going to keep throwing away my real estate when I can least afford to do so. I want people to be reminded every time they read my blog of my little amateur porn empire and crappy design "skills". Every time people read my blog, I want them to see my picture in the sidebar. I do not want people to see me as something contained within google or feedburner or whatever-the-hell. It's depersonalizing and also just not very smart on my part as a webwhore.
I know for SOME people the whole point of using a reader to consume blogs is getting all the content in one place. For me, using a reader is actually more about being alerted when posts are made to my favorite blogs without having to compulsively click and refresh a million links in a list to see if my beloved bloggers have updated yet. It's also about being able to organize, favorite and label blogs and posts. Reading other people's blogs has always felt very intimate to me and I want it to keep being that way; I don't like the way my reliance on Google Reader has made all the blogs I used to recognize on sight conform to the same look and feel. I've also hardly added any new blogs to my lineup because I'm not visiting people's blogs and clicking on their links anymore. I'm totally missing out! So yeah -- I'm just not going to give readers the option anymore to ignore my sidebars and shit. Plplplplplpl!!
Just to rub salt in your wounds, I added a gigantic flash animated
Fleshlight
banner over there. BECAUSE EVERYONE WITH A DICK SHOULD HAVE ONE and it makes me totally hot to look at those kinds of things being played with or even just presented on display (see also
my entry on Tiny Fake Pussies
).
If I find a less obnoxious banner that I like just as much that shows some "action", I will replace it, though. Or maybe if someone says that it gave them a seizure.
*****
Anyhoo, here are a few little images from the video we posted yesterday for members: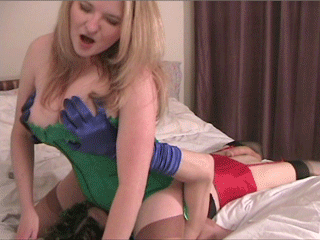 Labels: announcements, money, PHOTOS, PORNOGRAPHY, technical, webwhore insights