From a video we shot awhile back but just posted recently: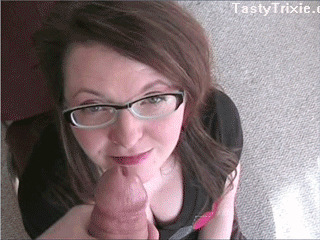 I don't do enough glasses porn so we shot that in part to try to remedy that. It's a shame I don't shoot more stuff while I'm wearing my spectacles since I have a really "sexy" strong prescription, if you're into that sort of thing:
right eye = -6.75 -1.00 x 135
left eye = -4.00 -2.75 x 156
The third number is for my astigmatism.
I also did a creepy voice-over/roleplay with myself for that video AND Delia threw her back out shooting that POV (point of view), so I want to make sure it's fully "appreciated" by nerd-lovers. Members can see it
here
. Non-members can
join
our sites to see it OR buy it on
our clips4sale store
(look for "Interview with a Nerd").
*****
Speaking of nerds, we finally saw Star Trek last night. Aside from it being an amazing, must-see-on-the-big-screen event, it totally had a Father's day theme AND there were only five other people in the theatre with us, and three of those people were mega-Trekkers. The dude looked exactly like
"Sex", the crazy guy whose mom brings him to try out for So You Think You Can Dance
every season. Only this guy made really awesome geeked-out joy noises in response to the movie and made the experience even more pleasurable and authentic than it would have otherwise been. I mean, we totally geeked out but this nerd-monkey NOISE that he made just epitomized what Star Trek fans are all about. And even with that few people in the seats, I *still* managed to get some fucker putting his feet up on our row of seats and shaking the shit out of me so, as usual, I had to have words with someone. PEOPLE. I love and loathe the shit out of them.
I think the last movie was saw in the theatre before this was
Twilight
so we're parched for big screen entertainment. I'd love to see Up and Terminator Salvation before it's too late.
Labels: fetishes, movies, PHOTOS, pop culture, PORNOGRAPHY, Star Trek, television