NAKED ON THE INTERNET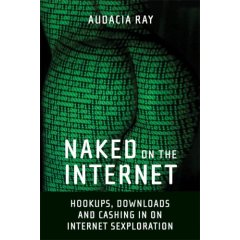 I just read a book that felt like it was all about my life, even though it's about many women and many different ways the internet is a tool for our sexual exploration:
Naked on the Internet: Hookups, Downloads, and Cashing in on Internet Sexploration
. To be fair, I was one of the (many) people interviewed by the author,
Audacia Ray
, so portions of the book ARE specifically about me and webwhoring; I guess I shouldn't act surprised that some of it speaks directly to my experiences, but for THE WHOLE ENTIRE BOOK to feel so relevant to me from page one throughout chapters that I *wasn't* interviewed for?
Thrilling.
It is *thrilling* to hold a bundle of pages representing women's history in my hands and know that our experiences have been fairly represented and intelligently preserved by someone who knows what she's talking about and is part of this phenomenal webby wave of self-publishing, sexual agency, capitalism and more. It is *thrilling* to know that our friend wrote our stories in a way that is intimate, readable and entertaining in addition to being smart and informative. It is *thrilling* knowing this book can stand the test of time to continue telling our stories and marking our spots in history for generations to come -- because of NOTI's wide scope of coverage, Dacia's deftness in developing context without getting bogged down in boring details with expiration dates (hard to avoid when you're talking about technology), and her facility in introducing tons of people, projects and ideas in a way that breeds instant familiarity, this book is top drawer stuff for anyone now or in the future who gives even half a shit about women, our impact on the internet and its very personal impact on us.
Aside from appreciating the book's history-making, I loved reading it because it provoked an awareness in me of what I do, have done and want to keep doing; it made me reflect upon and examine my life from a more distant vantage point than I usually stop to consider (and a basic reminder of how the internet has allowed my life to be something better and very different from what it would be without it). It also accomplished something I haven't thought possible for myself in a long time; it made me feel connected to a huge group of women with common experiences.
*****
I actually took a bunch of notes while I read the book, so I'm going to be writing a few follow-up posts sharing more personalized enthusiastic responses about stuff like immortality, cyberdildonics, personal blogging, etc.
Labels: books, gender issues, pop culture, sociopolitical commentary, webwhore insights