CLOUD NINE
I wrote the following "blog" entry for our affiliates to plug into their own blogs to try to get people interested in a membership to Delia's site:
Some people's idea of heaven is a hot chick with a dick, someone like
Delia
, a devilish angel with a she-cock: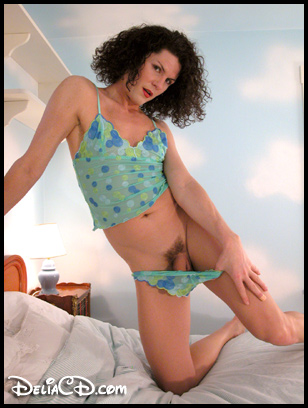 Full Gallery appearing now in Delia's Members-Only area .
JOIN NOW for ALL of her pics, vids & spycams!
If there's a God, s/he surely must have populated the fluffy clouds of our afterlife with dreamy companions fusing the anatomical wonders of both genders, defying the restrictive binary categories of our earthly lives and elevating us to a place where true transcendence is exhibited everywhere. You know what would be even cooler? If upon entering heaven we got to construct our own hodge-podge anatomy, like plugging parts onto a Mr/Mrs Potato Head.
I'll take the milky DD breasts, a very tight hairless sphincter, a vagina hole and a gigantic uncut cock placed directly atop said vagina hole. And really well-developed biceps so they won't be dwarved by my extra large wings.
I hope they're also passing out non-scratchy elasticized rhinestone cockrings and fuckable eye-sockets. Wouldn't it be great to see a shemale's cock coming right for your eyeball, getting bigger and bigger, and then, like, penetrating it?? And then when she starts fucking your brain you hear music, like heavenly voices, like the Mormon Tabernacle Choir singing inside your head.
I'm on my way, St. fucking Peter, right after I finish masturbating to the latest video in
Delia's members-only area
. . .
I'll admit I didn't write this blog entry; Delia's crazy-ass girlfriend Trixie wrote it and asked me to post it here. She's a total wingnut, but Delia is hot.
*****
This is the kind of thing I wouldn't post in our own blogs (err, well I guess I just did but not without explaining myself), but I *love* writing anyway. For all of the complaining I do about the stupid ways people try to sell our porn, I actually enjoy joining that fray myself because it allows me to feel totally uninhibited; I feel that there's no real standard to meet, subtle soft-selling is discouraged, and I can revel in objectifying us in ways that I know should probably politically and emotionally disgust me. Oversimplifications are welcome as long as they catch people's attention quickly and I genuinely amuse myself in the process of writing promotional text. It's just FUN. I suppose it's hypocritical or at least oddly contradictory on the surface for our own site personas to be what they are and for the promotional text I write for them to be so ridiculously shallow, but I still get a huge kick out of it. Part of the fun is knowing that if I can lure someone to our sites on shallow pretenses, they'll unwittingly become ensnared in webs of the complex realities of our personalities and lives and we'll have subverted the porn "thing".
God that sounds TOTALLY FUCKING EGOMANIACAL. I hope I didn't make you barf. Please, take none of this too seriously. This is only a test.
Labels: body parts, fantasies, PHOTOS, the porn industry, webwhore insights