HOT FOR BUBBLES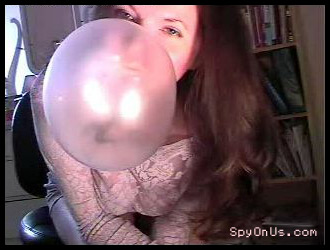 See my shows & bubbles by joining TastyTrixie.com or SpyOnUs.com.
My nascent bubblegum fetish is getting bigger and
bigger
and BIGGER. I can't resist integrating it into my group webcam shows (as in the above image snagged by DavieUK during one of my Monday shows) and I'm beginning to crave it during (non-recorded) sex.
After my late show on Monday my g-spot was still craving action so I lured
Tucker
into the bedroom and climbed on top of him to rub my long-socked legs all over him. I suddenly felt like if I had some gum to chew and blow everything would be PERFECT. And then I got an urge to not only wear long socks and blow bubbles while fucking, but also to slap Tucker silly. Alas, he said he would need to be tanked to endure a slap-session and because I'd already combined in my head the gum-chewing/blowing with the face-slapping I didn't even bother getting off Tucker to go into my office for gum. Instead we had a loud and heated session of "regular" sex including some doggy-style after my orgasm. I have never had an orgasm while being fucked from behind (except with the aid of a vibrator) so even though I enjoy it and experience pleasure from it, we usually don't do it that way unless we're in extended-play mode. Unfortunately no one sent me a screen capture from that session, but I imagine those watching were too busy with other things to be copying and pasting screen grabs.
As some of you've heard already, we're going to start an ongoing contest with monthly winners for voyeurs who submit screen caps. The only reason I keep procrastinating on starting and announcing it is I feel like I need to write some tutorials for those who don't already know how to do the print screen thing. I also have some software to recommend for people to be able to automate the process and even capture video with audio. I'm sure some fellow webwhores will think it's totally irresponsible of me to teach viewers how to archive our live performances and spycam moments, but I don't really have a problem with it as long as they don't try to resell them or post scads of them on message boards, etc. I actually feel like it's totally taking advantage of members to get them to record content and then send it to me so I can use it to make money. Seems like a fair trade to me when it boils down to it.
*****
I'll be posting more bubblegum and long sock content to
my members area
today so if you're not sick of my bubblegum obsession, you'll be pleased.
FYI: the bubble in the above pic was blown with four or five pieces of Bazooka.
Labels: announcements, bubblegum, fetishes, long socks, SEX, spycams, webcam shows, webwhore insights