Some Girls Look Good Sucking Cock . . .
SOME GIRLS LOOK GOOD SUCKING COCK . . .
. . . other girls? Not so much.
While I edited a POV blowjob video (shot from Tucker's "point-of-view" looking down at me ) I was once again disappointed by how alien my face looks from that angle. Alien as in "different" because I don't ever look at myself from the scalp downwards, but also alien as in "of the giant forehead and great big eyes". Like the greys, you know what I mean? Since the camera is closer to my forehead than any other facial feature, of course that is what looks biggest. Next, eyes. And then my nose, which isn't tiny and doesn't really benefit from enlargement. On top of that, I have a heart shaped face so it just looks like I'm this giant upper-half of a face, with a miniature jaw. I frequently look bizarre, like a praying mantis. And when I'm really going down on the cock and have as much of it as I can in my mouth? I look like a sunken-cheeked crack whore.
But I'll stop complaining since, you know, it's still really hot. And I snagged a lot of stills from it that I actually love. And even my crooked teeth looked sexy to me, reminding me that the Japanese actually have some kind of a fetish for crooked teeth; I don't remember the term for it, but apparently they think it's really cute. Of course you can't really give too much credit to the Japanese aesthetic when they're the ones who freed and made a celebrity artiste out of
Issei Sagawa
, a guy who cannibalized a big strong creamy-skinned Dutch lady.
While it would be most entertaining for me to show you lots of samples of me looking like a pale bug-eyed martian, it's probably better for business if I show you some of my favorite cocksucking (well, licking, etc.) snags with only one image of my totally-distended face: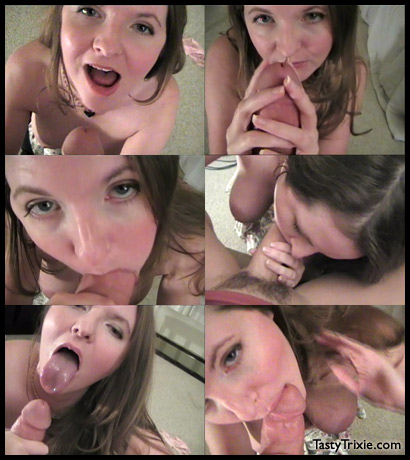 See all of my blowjob videos in my Members-Only area!
Join TastyTrixie.com or SpyOnUs.com for access.
Anyway, not all people really prefer to see a "pretty" face sucking cock. Sure, there are lots who *do* hold the
prettiest
cocksuckers in high esteem, but there are others who think the stretched-out features of a sexy-ugly face deep in hungry concentration are the best. You might also be surprised at how many guys fetishize tongues and open, empty mouths; lots of guys will specifically request (in porn and camshows) that you pose for them with your mouth open wide and your tongue sticking out. They will jack off to you just rolling your tongue out and laying it as flat as you can for them to imagine shooting their loads. This can be a difficult pose to maintain for more than a minute, but it really does the trick for some people.
But back to the most important topics at hand: me and my vanity! When I see my wrinkled forehead in photos and videos it REALLY makes me want an injection of botox more than a gloppy load of cum on my tongue.
Labels: beauty standards, body parts, photography, PHOTOS, porn consumers, PORNOGRAPHY, TURN ONS, webwhore insights