SMOOTH?
Here are some images from one of my recent galleries: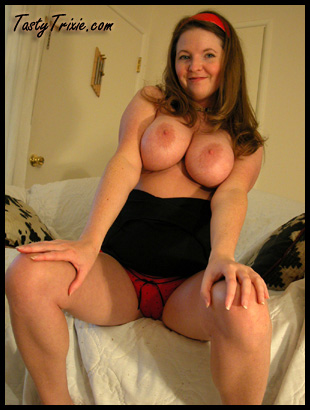 Full Gallery appearing now in my Members-Only area.
Join TastyTrixie.com or SpyOnUs.com for ALL of my pics!
It's too bad that "young" clothes are so inexpensive while purchasing mature and womanly garb requires more funds. When WILL my bankbook match my age? I need my grownup-galleries to outnumber my youthful-role-play content by at LEAST two to one instead of the other way around. THREE to one, that would be PERFECT.
*****
This weekend some or all of our cams will be down while family is visiting. My apologies for my low-level of interaction in terms of shows, email, chat, etc. I *almost* scheduled a chat session tonight, but was wise enough to decide against making that commitment. I'm feeling pretty tense and overwhelmed right now, and will probably remain so for the next few weeks until some goals are met. Our van is in the shop AGAIN (fan clutch being replaced), I have housework to do to prepare for company, and just a shitload of tasks demanding my attention. When I'm struggling to balance a lot of stuff and am focused on getting stuff done, being social is pretty much inconceivable for me. I don't just mean that I don't want to do it, I mean that I am incapable.
So. I have dirty dishes and a dirty toilet waiting for me, it's too late for me to do them tonight so they'll have to wait for morning . . . RIGHT BEFORE THE ONE SHOW I LEFT ON THE SCHEDULE, right before company comes over. Oh, won't the boys LOVE my charming attitude tomorrow!
Labels: announcements, family, money, mundane, PHOTOS, PORNOGRAPHY, spycams, webwhore insights