BRUNETTE
Okay . . . I might as well stay up a little late to post a couple of photos of the new brunette me: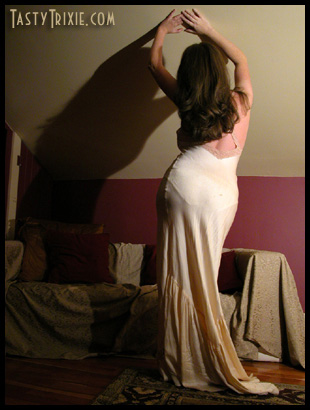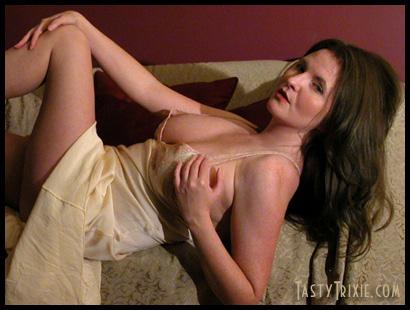 Full Gallery appearing soon in my Members-Only area.
Join TastyTrixie.com or SpyOnUs.com to see me as a blonde AND brunette!
Mmmmm. . . luscious! I'm very happy with the outcome, like piss-shivers happy with excitement and delight. Before this, always doing blonde, I *never* felt happy in the actual salon chair -- satisfied at best -- and would have to go home and look at it for awhile and get a few compliments to be happy with it. Blonde was the girl everyone else wanted me to be . . . golden, sunny, cheerful, and light. A smiler. But I never fucking was, and that was the beauty of the foil . . . it duped people into a false sense of security, balancing out the brunette inside me, making me more user-friendly and approachable.
But that's not me.
I'm pretty sure this will be bad for business. For one thing, I'm breaking
my rule
, but for another, it's almost acceptable to be bitchy and blonde. But bitchy and brunette? Oh, dear. You cold, cruel, calculating, conniving vixen! She-devil!
Surely you've noticed that she-devils are never blonde . . .
NEVER.
I finally feel like the she-devil I was born to be. Voluptuous with iced-cream flesh.
I saw a couple of blondes in the parking garage today. They looked like mirror images of each other, one tall, one short. Their hair was "perfect" salon-blonde and perfectly groomed. In a predictably-nasal tone, shorty said to tall girl, "did you see her hair? I mean, couldn't she tell it was MESSY?"
I am not nor will I ever be one of you, blonde bitches. I reject thee and thou flimsy facades and I invoke the power of the brunette goddess . . . . errr, what's-her-name.
I've always been more attracted to brunettes than blondes, in both men and women. I'm not saying I reject all blondies, just that brunettes catch my eye more often. Also, everyone in my family is brunette . . . I have the lightest hair of anybody at a nondescript mousy medium ash blonde. Blech. So this is the first time I've seen it that shade or darker since I started getting it lightened about thirteen years ago. I've been wanting to go over to the dark side for a long time, but really held out because of my site and because I felt like the blonde balanced out my personality and because everyone seemed to like it blonde; the lighter I'd go, the more people liked it. I'm not just talking men or fans, I'm talking about my mom and sister and hairdressers and everyone. Everyone advised against going darker. But now I must embrace it. I am an evil wench, the wicked stepmother, the haughty librarian, the priestess spitting fire and brimstone. Okay, maybe that's taking it too far but this hair sends me into flights of fancy. It makes me feel VAIN. It makes me feel like posing and looking down my nose at people.
It makes me feel like I have a batch of apples to poison for Halloween, and that's a very good feeling.