Knowing I have so much to share about the Vegas trip, I've been withholding more current events. Like the great phone sex I had the night we came back; houseboy stuffed my mouth with his cock while my phone sex guy told me how much "Daddy" wants me to suck it. I came using my hitachi magic wand (vibrator) with houseboy jiggling the knob of his cock in my wet mouth. I haven't been doing enough private shows and phone sex . . . that little episode was a reminder of how fun and fulfilling it can be. Having houseboy around when I'm doing phone sex makes me feel extra shy and self-conscious -- but somehow the couple times it's happened I've wound up demanding he get in on the action. It's like having a very safe threesome and/or mixing up your fantasy with reality in the most sublime/surreal manner. The best part about it is that I'm the one getting paid to have the MOST stimulation (the auditory stimulation coming from my client AND the real life stimulation coming from houseboy and whatever other toys I rustle up).
Night before last houseboy took about 130 pictures of me (along with some self-timed shots of us together). I'm starting to feel a lot more comfortable "posing" for him. The best part about it is that he seems to enjoy it -- he totally motivates me to do the shoot and helps hook up the voyeurcams, move computer, lights, etc. around -- all those tedious things that are so time consuming.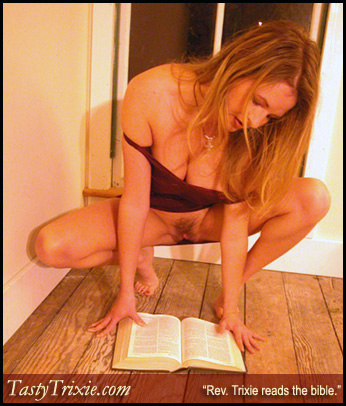 Full Gallery appearing in my Members-Only area with tonight's Sunday 1/12 update
JOIN NOW for access to the entire gallery!
In sad news, since I moved from Tacoma I have been reading The Irish Think Tank's email every so often (it's amazing that a pathological liar feels safe telling everyone his hotmail password when he should realize that will give us the opportunity to more clearly see his inconsistent stories and lies). Now that he is no longer a threat to me it distressed me to find out he is homeless. He finally got kicked out of his apartment and everybody seems to be discovering that he's a soul-sucking opportunistic bad person. One person told him, "Its scavengers like you who leach off of caring hard working people AND think its OK ..that gave me the inspiration for my Scavenger series of seagull compositions".
On one hand I don't feel sorry that he's getting what he deserves. On the other hand I hate thinking about someone who is not completely evil and *does* have good qualities (fun, good sense of humour, when he *does* have money he's extremely generous with it) living on the streets in fucking cold rainy-ass January. I hope that this makes him a better person or that he just dies. Otherwise his destitution could make him even more of a liar and psycho.
Labels: friends, phone sex, PHOTOS, relationships, SEX, sex work, TURN ONS, webcam shows, work